Geraldo: 'False Narrative' of Racism in Trayvon Case Causing Conservative Backlash Over Lane Murder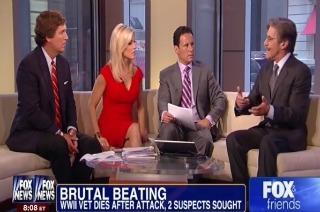 On Friday, Fox News Channel host Geraldo Rivera was asked to dig into a story out of Seattle in which an 88-year-old World War II veteran was beaten to death by two African-American teenagers. In coordination with the senseless murder of Australian college student Christopher Lane, Rivera was asked by the hosts of Fox & Friends if there is a racial thread to both crimes. Rivera said that the "false narrative" of racism in the case of George Zimmerman's killing of Trayvon Martin has given conservatives a license to see racism where it may not exist but it is hard to blame them for it.

"It is relevant – race matters – to say that they are African-American teens," Rivera said about the case of the beaten WWII veteran, noting that describing criminal suspects accurately is important. "But I think what we have to be careful of is to imply that their race was the reason they committed this horrific crime."
Rivera guessed that these teens come from "broken homes" and "exist like wolves," getting their "values from rap videos."
RELATED: The Five Hits MSNBC's Chris Lane Coverage: 'Black on White Crime' Doesn't Fit Their Agenda
Tucker Carlson agreed that drawing broad conclusions about society based on isolated crimes was inadvisable, but he said that this is exactly what has been happening recently. "You've seen a lot on the left, very much including the president, take interracial crimes to make larger points about racism in America," Carlson said.
"I think that in the post-Trayvon era, where conservatives watched as liberals created a narrative — a false narrative — of a black boy being victimized by a ruthless white guy, a racist white guy, that was a false narrative in many ways," Rivera said. "I think in the post-trayvon era, there is a perverse tug of war going on."
He said conservatives are now asking where the media is when there is interracial crime but the victim is a white person.
When Rivera was asked about the fact that both the killers of Lane and the WWII veteran were men, he said that it is clear that there is a "disintegration of values" in some communities. He said that he wished President Barack Obama would "speak more about it."
Watch the clip below via Fox News Channel:
—
> >Follow Noah Rothman (@NoahCRothman) on Twitter
Have a tip we should know? [email protected]