Geraldo Gives Up On Susan Rice As Possible Secretary Of State: 'That Ship May Have Sailed'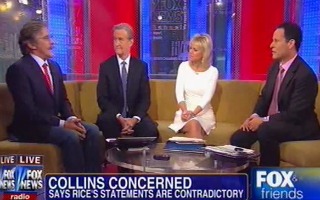 Fox News Channel's Geraldo Rivera has repeatedly defended Obama administration officials' roles leading up to and after the deadly attack on an American consulate in Benghazi. On Friday, after months of pressure on the administration and United Nations Ambassador Susan Rice in particular, Rivera told the hosts of Fox & Friends on Friday that he now thinks it is unlikely that Rice would succeed Sec. Hillary Clinton as the next Secretary of State.

RELATED Geraldo And Eric Bolling In Screaming Match Over Attempts To Blame Obama Admin. For Benghazi Deaths
Fox & Friends played a clip of Sen. Susan Collins (R-ME) expressing her concerns over Rice's role as the Secretary for African Affairs during the Clinton administration when two American embassies were attacked in 1998.
Rivera explained his recollection of what lead up to the embassy attacks and detailed the State Department officials who are more responsible for embassy security than Rice was in her capacity at the time. He dismissed Collins' concerns, saying that to blame Rice for the embassy bombings is like "blaming FEMA for 9/11."
"It's like scapegoating Susan is the affliction that's sweeping Washington," Rivera added.
Brian Kilmeade asked why Rice could not explain herself as well as Rivera just had. "She's not very diplomatic," Steve Doocy asked. "She's too diplomatic," Rivera replied.
"I think she's being so afraid of now of making a misstatement that she's being overly cautious, she's parsing her words and she's coming across as a politician," said Rivera.
When Kilmeade asked how she could function as a possible Secretary of State, Rivera said that he thought that was no longer a possibility. "I think that ship may have sailed," Rivera said.
Watch the clip below via Fox News Channel:
> >Follow Noah Rothman (@Noah_C_Rothman) on Twitter
Have a tip we should know? tips@mediaite.com