Geraldo Goes Off: Obama 'Terrorizing Journalists' An 'Un-American' Effort To 'Criminalize' Reporting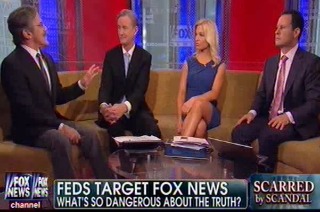 During a discussion of the brutal attack on a British serviceman this week in London, Fox News Channel host Geraldo Rivera spontaneously shifted his focus to the Department of Justice's singling out of journalistic institutions for wide-ranging subpoenas of their communications records. The Fox host said the administration was guilty of "intimidating" and "terrorizing journalists." Rivera added that the Obama administration's actions were "un-American" and may even be "unconstitutional."

Rivera began by saying that it was necessary to surveil radicalized mosques to prevent future attacks in America like the one that occurred in the UK. "Look at the surveillance we have here against reporters," Rivera noted.
"It is absolutely, deeply distressing," he continued.
"Were you shocked by it?" Brian Kilmeade asked. "When you found out how deep it went?"
RELATED: Eric Holder Signed Off On Search Of Fox's James Rosen's Private Emails, NBC Reports
Rivera began by saying that he is "generally very supportive of the President of the United States." However, the DOJ's targeting of James Rosen in particular seems to him to be "excessive," and he doubts that there would be muted outrage if this intimidation of reporters had occurred under a Republican administration.
"This is something that truly deserves an independent arbiter," Rivera continued. He said that the "totally distasteful and counterproductive tactic of harassing and terrorizing journalists" was "un-American" and possibly "unconstitutional."
"Who's going to return our calls in D.C. anymore?" Rivera asked. "It's an attempt to criminalize the journalistic profession in a sense that it will make everyone fearful of pursuing leads and doing stories except those stories that the administration deems acceptable. And I think that's deeply disturbing."
Watch the clip below via Fox News Channel:
> >Follow Noah Rothman (@NoahCRothman) on Twitter
Have a tip we should know? tips@mediaite.com