Geraldo: GOP Sought 'Destruction Of First African American Attorney General' Before Election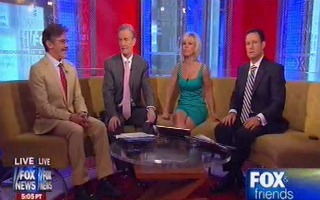 Geraldo Rivera appeared on Fox & Friends on Friday where he weighed in on Thursday's "Fast and Furious" hearings between Attorney General Eric Holder and members of Congress. Rivera told the Fox hosts that Republicans made a political calculation to pursue "the destruction of the first African American Attorney General in a presidential election year." Rivera also said that "Republicans, having made their point now, should just declare victory and move on."

RELATED: Geraldo Defends Obama's 'Kill List' From Fox & Friends Hosts: 'I Don't Care About Losing Moral High Ground'
Rivera was asked to weigh in on yesterday's Congressional hearings into the "Fast and Furious" gun walking scandal. Fox & Friends played a clip of the contentious testimony between Rep. Trey Gowdy (R-SC) and Holder where the two argued over whether the Attorney General was a polarizing figure that was subject to political attacks.
"Mr. Attorney General, you have a difficult job," said Rep. Gowdy. "But if you think that you're being singled out because of political ideology or race or any other characteristic or factor – when it comes to Fast and Furious – you are sorely mistaken."
"Well, I think Holder wins that exchange," said Rivera. "iI the conversation – you know, the white southerner denying to the first black Attorney General we've ever had that his motivation is either race or ideology – it brings the conversation down to exactly where Attorney General Holder wants it to be."
Rivera called Gowdy's question an "ad hominem attack." However, Rivera conceded that he could understand the investigators frustration with Holder – having testified on this issue eight times in the past. He also said that there is reason to believe, based on recently released documents, that people close to Holder were well informed on the details of Fast and Furious.
Rivera went on to say that House and Senate Republican leadership are rejecting the calls to cite Holder in contempt and so it is unlikely to occur. "There is division within the Republican ranks that diminishes profoundly the clout of the committee," said Rivera. "The committee looks more and more radical compared to their own Republican leadership."
Co-host Steve Doocy asked if he thought this was a "witch hunt" to which Rivera replied that it "may or may not be." What Rivera said was more relevant was that the Republicans made a calculation; that "the destruction of the first African American Attorney General in a presidential election year — I'm just surmising — I think that it's all about politics now."
"Republicans, having made their point now, should just declare victory and move on," Rivera concluded.
Watch the segment below via Fox News Channel:
Follow Noah Rothman on Twitter
Have a tip we should know? tips@mediaite.com