Geraldo Has a Theory: MH370 Hijacked and Landed to Retrieve 'Secret Passenger'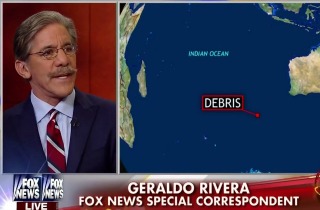 Fox News Channel host Geraldo Rivera shared what he admitted was an unlikely but nevertheless possible theory regarding the disappearance of Malaysian Airlines Flight 370. Appearing on Fox & Friends on Friday morning, Rivera said that it was possible that the plane was hijacked and landed somewhere so that the hijackers could get to a "secret passenger" of some importance.

Rivera said that he thought a recent lead on the missing plane linked to debris in the South Indian Ocean was not going to prove fruitful. He said that, similar to the movie All is Lost, that debris was likely a container that fell off of a transoceanic shipping liner.
Rivera said that his "favorite" theory, which he added has about a 5 percent likelihood of being true, is that the plane was hijacked and landed somewhere. "Not to take off again to be used as a weapon, but just to get it someplace so they could get to the secret passenger or the secret cargo," Rivera submitted.
RELATED: 'I Tend to Work Off What I Don't Know': HLN Asks Psychic to Investigate Missing Plane
"Far more likely is that it was a hijacking or a pilot suicide, but the reason I'm not definitive about that is if it was just going to be a pilot suicide, you just drive the plane into the drink right there," he continued.
Rivera added that even more likely is that the plane's oxygen levels sank to the point where most of the passengers and crew became unconscious. When host Brian Kilmeade asked who, then, would have disabled the plane's transponders, Rivera said he could not account for all the variables in this mystery.
Watch the clip below, via Fox:
[Photo via screen grab]
— —
> >Follow Noah Rothman (@NoahCRothman) on Twitter
Have a tip we should know? tips@mediaite.com