Geraldo: 'Highly Politicized' Darrell Issa Can't Lead Vendetta-Driven Investigation Into Eric Holder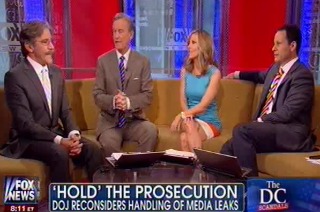 There should and probably will be an investigation into the Justice Department's sweeping subpoenas of journalists' communications records, said Fox News Channel host Geraldo Rivera on Friday. However, he says he hopes that it is not the members of the House Oversight and Government Reform Committee or its Chairman, Rep. Darrell Issa (R-CA), who lead that investigation. Rivera said, given his behavior during the Fast and Furious investigation, Issa cannot be trusted to lead a neutral and nonpartisan inquiry into the DOJ's transgressions.

RELATED: MSNBC Contributor Michael Eric Dyson: Eric Holder 'Is The Moses Of Our Time'
"He won't resign immediately because there's not a smoking gun right now," Rivera said by way of predictions regarding Attorney General Eric Holder's political future.
"There are implications, and allegations, and suspicions of perjury and testimony given before Congress that was not entirely truthful," Rivera added. "That might be ultimately what forces him out of office."
Rivera said that he expects Holder to "stick by his friend," President Barack Obama. He noted that he thinks Holder will resign after he helps modernize the DOJ's operating procedures so that journalists aren't targeted unnecessarily in the future.
"In terms of him investigating himself, clearly there is a conflict," Rivera conceded. "I just hope it isn't Darrell Issa and the oversight committee who investigates this particular alleged wrongdoing."
"Because, after Fast and Furious, it is clear that that committee has a bone to pick with the attorney general," he concluded. "Darrell Issa's very highly politicized."
"Let's hope it's the mainstream media," Steve Doocy added sarcastically.
Watch the clip below via Fox News Channel:
> >Follow Noah Rothman (@NoahCRothman) on Twitter
Have a tip we should know? tips@mediaite.com