Geraldo: Investigators 'Got Enough Information' Out Of Boston Bomber Over 16 Hours Of Interrogation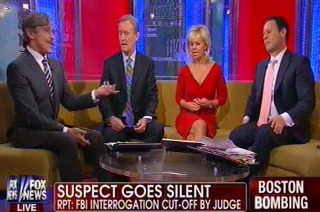 Fox News channel host Geraldo Rivera told the hosts of Fox & Friends on Friday that he was certain that the 16 hours in which investigators looking into the Boston bombings were able to interrogate Dzhokhar Tsarnaev before he was read his Miranda rights was sufficient. When pressed as to why he thought that was the case, Rivera said he did not "have a good answer."

RELATED: Judge Napolitano Calls Out Officials' Contradiction In Delaying Suspect's Miranda Rights: 'Can't Have It Both Ways'
Host Steve Doocy said that Tsarnaev was "singing like a canary" before the authorities read him his rights, at which point the Boston bombing suspect stopped talking.
"He was singing," Rivera agreed, "and for 16 hours they got enough information, I think, to know what this probe was."
"How do you know it's enough?" Doocy asked. "Why not go to 48 hours?"
"I don't have a good answer," River replied. "Why not 48 hours? Why not 30 days? I understand the impulse to wring him dry in terms of information."
"But I just ask people to slow down," Rivera continued. "Remember, he did give a lot of information in those 16 hours, and he's now facing at least four death sentences." Rivera said that he thinks the government should cut a deal with the surviving Tsarnaev brother as the government did with Terry Nichols during the prosecution of the Oklahoma City bombers.
"What I care about is maximum information," Brian Kilmeade said. He noted that the alacrity with which the narrative that the Tsarnaevs were radicalized on their own without foreign assistance was established was troubling. "We were getting led," Kilmeade charged.
Rivera said that it is possible that the money trail would lead them back to an accomplice in Southern Russia. "There's so many unanswered questions," noted Gretchen Carlson.
Watch the clip below via Fox News Channel:
> >Follow Noah Rothman (@NoahCRothman) on Twitter
Have a tip we should know? tips@mediaite.com