Geraldo Wants To Lead 'A New Vitalization Of The Republican Party' As NJ Senate Candidate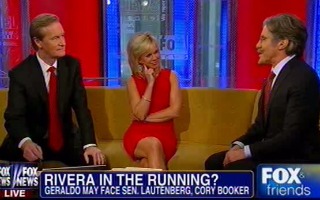 On Friday, Fox News Channel host Geraldo Rivera confirmed that he is considering mounting a bid for U.S. Senate in 2014 as a Republican in the Garden State. Rivera told the hosts of Fox & Friends that his brand of Republicanism is "underrepresented," and his run would help usher in a new "vitalization" of the GOP.

RELATED: Geraldo Rivera Looking To Run For Senate As Republican In New Jersey
Gretchen Carlson said that Rivera created a "firestorm" when he announced he is considering a run for the Senate in New Jersey. She asked if he was serious about the consideration, and Rivera replied that he was.
"I really do believe, as a modern republican, that there is a point of view that is unrepresented in states like New Jersey," Rivera said. "There can be a new vitalization of the Republican Party – a concept where we extol the virtues of good business and fiscal policy, and we fight the deficit, and we don't advocate the printing of money in obscene amounts just to cover the debt."
"Look at that – you've already got your stump speech down," Steve Doocy remarked.
Doocy noted that Rivera would have to leave television and radio if he runs for office. Rivera said the Senate race would not begin in earnest for several months and he could use that time perfect his message.
"Are you going to do it? Seriously?" Carlson pressed.
"I very well may," Rivera replied.
"I believe in immigration reform, I believe in gay rights and gay marriage, I believe in choice," Rivera cautioned. He said he is not sure if he is "in sync" with modern Republican politics.
Watch the clip below via Fox News Channel:
> >Follow Noah Rothman (@NoahCRothman) on Twitter
Have a tip we should know? tips@mediaite.com