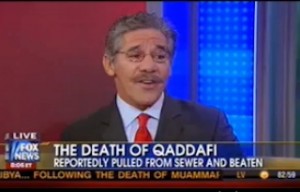 Geraldo Rivera knows a thing or two about Libya and Muammar Gaddafi, having covered their collective story for almost two decades. So it was somewhat predictable for Fox and Friends to invite him to the "curvy couch" to discuss yesterday's news of Gaddafi's death. What was somewhat surprising for long time viewers of the Fox News morning program, was Rivera's championing of President Obama's record on foreign policy.
The celebration of this particular administration is not something one regularly sees on the right-of-center opinion media program. Co-host Brian Kilmeade set the stage for Geraldo's comment by skeptically reminding that the next phase in Libya "could be dangerous" before reminding his guest that the U.S."didn't take the lead," adding "we never declared war!"
Rivera responded by asking "is that a bad thing that we didn't take the lead?" adding "President Obama, whatever his failures are on the domestic side has proven to be one of our most efficient warrior leaders." He then pointed out that this administration "has successfully taken out bin Laden, al-Awlaki, now Gaddhafi dead, cost us really chump change relatively speaking."
The pendulum of opinion and partisan media usually swings both ways, and yesterday's news of Gaddafi's capture and killing was met with many GOP leaders seemingly giving praise to nearly everyone but Obama, with some notable exceptions. After getting called out for being petty, perhaps the right-of-center opiniotainers are looking to change their tactics in response to the Libya situation.
Watch the clip below, courtesy of Fox News:
Have a tip we should know? tips@mediaite.com
Colby Hall - Founding Editor