Geraldo On VA Assault Case: Victims Should Hire Black Attorney To 'Defuse' Racial Tensions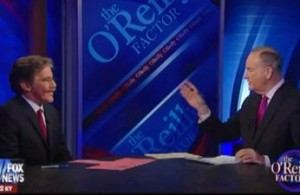 Bill O'Reilly continues to shine a light on an assault in Virginia where a group of black men attacked two white news reporters, and last night O'Reilly was surprised that only one of the attackers in question has been arrested and brought up on charges. O'Reilly brought on Geraldo Rivera and anointed him the attorney for the victims in the case, asking him what he would do if he was actually representing the couple and trying to help them get justice.
RELATED: O'Reilly Questions Why 'Racially Charged Mob' Assaulting White Couple Was Covered Up By Local Paper
Rivera argued that a good way to "defuse" some of the racial tensions surrounding the case would be for the victims to hire an African-American attorney, maybe even the one currently representing Trayvon Martin's family. He said he would want to hold a press conference and say that a "combination of political correctness and lazy police work" has created a grave injustice. Rivera said he would call for all relevant materials, including the 911 calls made, to be released.
RELATED: O'Reilly On Virginia Assault: If It Had Been Whites Attacking Blacks, MSNBC Would Be All Over It
Rivera added that since there were a number of witnesses who saw what happened, anyone with video of the assault should come forth and present it. O'Reilly pointed out that the victims filed a complaint precisely because the police did not speak to the witnesses present. Geraldo said that he would also want the police department to ensure that in investigating any police misconduct in the case, there is no concerted attempt to cover up any details.
Watch the video below, courtesy of Fox News:
Have a tip we should know? tips@mediaite.com
Josh Feldman - Senior Editor