Geraldo: Revelations About CIA In Benghazi 'Not As Extraordinary' As 'It's Being Made Out'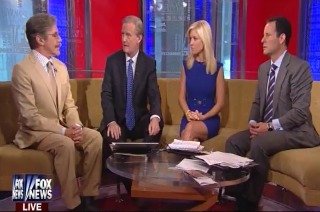 On Friday, Geraldo Rivera joined the hosts of Fox & Friends where he defended the actions of the federal government as it relates to their response to the deadly 2012 attack on an American consulate in Benghazi. He said that the latest bombshell report, that more than 30 CIA officers were on the ground in Benghazi that night and many of the survivors are being pressured to keep quiet about what they know about the details of that attack is "not as extraordinary" as some are suggesting.

RELATED: CNN: CIA Pressuring Agents With Knowledge Of Benghazi To Keep Silent: 'You Jeopardize Your Family'
Steve Doocy asked Rivera for this take on the recently revealed details of what the CIA and the government has been keeping secret regarding the details of the Benghazi attack. "It sounds like there is something to hide," Doocy opined.
Rivera said that he had already predicted months ago that the government was trying to hide the fact that clandestine service members were transiting missiles through Libya into Turkey and ultimately into the hands of Syrian rebels in 2011 – 2012.
"It's like a Middle Eastern Fast and Furious," Doocy said.
Turning to the revelations regarding the CIA's presence in Benghazi, Rivera was asked just how normal it was for the CIA to be changing the names of operatives with knowledge of the attacks and to be administering monthly polygraph exams.
"I don't know," Rivera said. "They have not allowed any of the wounded, for instance, or any of the participants to speak to the media."
"Doesn't that bother you?" Brian Kilmeade asked.
"Because this is the nature of the CIA," Rivera replied. "This is the most secret, ultra-secret agency."
"It's not as extraordinary as perhaps being made out," he continued.
Watch the segment below via Fox News Channel:
> >Follow Noah Rothman (@NoahCRothman) on Twitter
Have a tip we should know? tips@mediaite.com