Geraldo And Eric Bolling Battle Over Violent Threat Posed By The Muslim Brotherhood
Geraldo And Bolling Battle Over Violent Threat Posed By The Muslim Brotherhood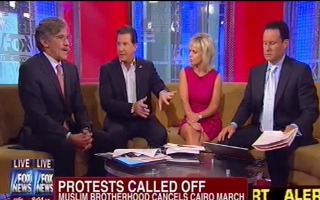 In a discussion about the ongoing turmoil in North Africa following Tuesday's attacks on two U.S. embassies and ongoing protests, Geraldo Rivera appeared on Fox & Friends to weigh in with his thoughts on the crisis. He engaged in an argument with Eric Bolling over the nature of the threat posed by the Muslim Brotherhood, the governing power presently in control of the Egyptian presidency.

Gretchen Carlson asked Rivera to recount his experiences on the ground during the 2011 campaign in Libya to oust long-time dictator Muammar Gadhafi. After retelling his experience on the ground in Libya, Rivera turned to Egypt.
Rivera said that he thought it was "entirely possible" that the 9/11/12 attacks on American embassies, one of which claimed the life of U.S. Ambassador Chris Stevens, were the work of Al Qaeda affiliates.
Rivera turned from the chaos in Libya to ongoing anti-American protests in Egypt. He said that the Muslim Brotherhood, a group which was once outlawed but now holds substantial power in Egypt after the Arab Spring revolutions, called for protests against the U.S. embassy and failed to send troops to protect it.
"Are they an ally," asked Carlson. She said that their guide while in Egypt two years ago told her that the Muslim Brotherhood's goal was to "fly the flag of Islam at the White House."
"I haven't heard a goal quite that ambitious," said Rivera. "Their goal has been to have Sharia Law govern the lives of the billion plus Muslims on earth." He said that the Muslim Brotherhood has rejected Jihad to achieve that aim, unlike groups like Al Qaeda.
Bolling found this statement curious.
"Geraldo Rivera is not actually on TV saying he trusts the Muslim Brotherhood as saying, 'We reject Jihad completely.' All factions of the Muslim Brotherhood," asked Bolling.
"The Muslim Brotherhood no runs Egypt," said Rivera. "Whether or not they're the allies of the United States remains to be seen."
Finally, Carlson asked Rivera if he thought President Barack Obama was correct to refuse to characterize Egypt as either an ally or an enemy. "I think that's exactly true, Gretchen," Rivera replied. "I want that to be our policy, that Egypt is not necessarily our allies unless they prove to be loyal to us."
"Stop sending them money then," Bolling replied.
Watch the segment below via Fox News Channel:
> >Follow Noah Rothman (@Noah_C_Rothman) on Twitter
Have a tip we should know? [email protected]