Geraldo Rivera And Eric Bolling Get Into Heated Battle Over Every Aspect Of Gun Control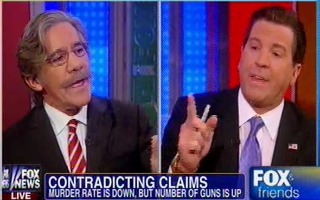 Fox News hosts Eric Bolling and Geraldo Rivera went at it on Friday morning on Fox & Friends over what appropriate action the federal government should take to limit future incidence of gun violence. The two battled over the impact gun ownership has on crime, the appropriateness of allowing semi-automatic weapons in private hands, and how logical it was for supporter of the Second Amendment justify gun ownership on the grounds that they are protecting themselves from a future tyrannical government.

Rivera said he thought there would be some reform after the Newtown massacre, but he thinks it is unlikely that assault-style weapon would be banned – although, he would support such a ban.
Bolling took issue with the term "assault-style," saying that he had to distinguish between semi and fully automatic. Rivera made the point that semi-automatic weapons were just as deadly as machine guns and that he was not making that distinction.
Rivera said he "would debate" whether there is a personal right in the constitution to ban semi-automatic weapons.
"You realize what you're saying," Bolling said.
"You don't hunt with an AR-15," Rivera replied.
Alisyn Camerota referenced a graphic which showed the violent crime rate decreasing inversely with gun ownership over the last twenty years. Rivera agreed, saying that the solutions he is advocating for are merely an attempt to keep guns "out of the hands of nut jobs."
Bolling and Rivera exploded again when Rivera said that he found it ironic that individuals who claim to be patriots are so deeply suspicious of their government that they feel the need to arm themselves against it.
Rivera went on to say that there is no study suggesting that gun ownership results in a safer society. Bolling again referenced the graphic from earlier, saying the correlation between decreasing crime and gun ownership is clear.
"Do you agree that crazy people shouldn't have access to guns," Rivera asked pointedly.
"Absolutely," Bolling replied. "Arming people with – sane people – with handguns and rifles, makes the community a lot more safe."
Watch the exchange via Fox News Channel:
> >Follow Noah Rothman (@Noah_C_Rothman) on Twitter
Have a tip we should know? tips@mediaite.com