Geraldo Rivera Gets Ripped After DWTS Debut: 'Maybe You're Gonna Dance Next Week?'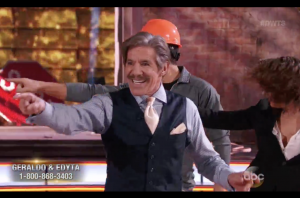 Fox News' Geraldo Rivera accepted the challenge of appearing on the newest season of ABC's Dancing With The Stars, and his opening performance left much to be desired in the opinions of the judges. Perhaps the die was cast even before he started, as Rivera admitted to the camera during a pre-dance montage package, "I'm the only Puerto Rican in American who can't dance".
Rivera danced the Cha Cha with Edyta Sliwinska to a rendition of Treasure by Bruno Mars Monday night. Bruno Tonioli, one of the show's judges, opened with perhaps the harshest and most sarcastic criticism:
Very cunning strategy. You went minimalistic. Don't give away too much too soon. Let them wait for it… I am stirring, I am not dancing! Maybe you're gonna dance next week, yeah?
Rivera took the criticism in stride, and laughed along with the audience at his lackluster performance.
Carrie Ann Inaba also dug in a bit at Rivera, though took a softer tone than her peer Tonioli. "You can't just do that the whole time!" she said, mimicking a gesture that the Fox News personality frequently defaulted to during his dance. "Loosen up the joints!"
"Dancing is a work in progress. You're not there yet!" admitted Len Goodman, marking the third judge who seemed to think that Rivera's debut was less-than-impressive.
Credit needs to be given where credit is due, however; Rivera is 72 freakin' years old, and he went on national television tonight to dance the Cha Cha with Edyta Sliwinska. Most of us could never even fathom doing so, and yes, Rivera is a bit of a ham, but he's on TV all the time doing election coverage and deserves a hat-tip for taking this on. Who knows what next week will bring, but we'll certainly be watching.
As for one last piece of advice for Rivera? "One thing I'll tell you — Latin dances, you don't step on your heels," advised Goodman. Watch the above performance from ABC's Dancing With the Stars.
This is an opinion piece. The views expressed in this article are those of just the author.