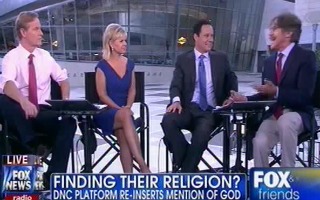 Geraldo Rivera appeared on Fox & Friends on Thursday offering high praise for the Democratic National Convention, with the exception of yesterday's chaotic attempt to reintroduce language originally omitted form the Democratic party about God and the status of the city of Jerusalem. Rivera called the episode a 'debacle' that marred what would otherwise have been a strong convention.

RELATED: CNN Panel Confused By 'Embarrassing' Delegate Revolt At DNC Over Jerusalem, God
After playing a clip of the contentious procedure in which the DNC's delegates passed an amendment to the party's platform which reintroduces God and Jerusalem as Israel's capital, Rivera called the episode "humiliating."
"It sounded to me that there were as many 'noes' – which is disturbing – as there were 'yeses,'" said Gretchen Carlson.
"This is a debacle," Rivera replied. He says he telephoned Harvard Law professor and advisor to President Barack Obama, Alan Dershowitz, who was equally disturbed by the proceedings.
"I was very critical of the Republicans on the platform plank on immigration, gay marriage and abortion in Tampa," said Rivera. "Now, here there are Democrats – why did they take God out?"
"There's a couple of Muslim delegates who went on camera and said, 'I don't want God in there,'" said Brian Kilmeade.
"You weren't hearing Muslim, you were hearing the secular side of the Democratic party," said Rivera. "You were hearing exactly what the Republicans characterize the Democrats – caricature the Democrats as. Secular, Progressive — It's like a line out of O'Reilly."
"I thought it was a disaster," Rivera concluded. He said that, even with Bill Clinton's strong speech on Wednesday night, the chaos on the floor yesterday drops the DNC down a full letter grade.
Watch the clip below via Fox News Channel:
> >Follow Noah Rothman (@Noah_C_Rothman) on Twitter
Have a tip we should know? [email protected]