Geraldo Rivera Likens Rolling Stone's Michael Hastings To Al Qaeda. Seriously.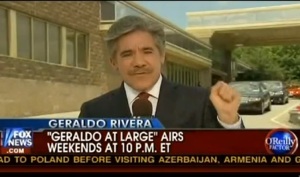 And no it was not hyperbole. While guesting on The O'Reilly Factor tonight, Geraldo Rivera compared writer Michael Hastings (whose article in Rolling Stone published this week effectively brought down General Stanley McChrystal) with al Qaeda terrorists who killed US ally Sheik Massoud two days before the attacks of 9/11, who set back anti-Taliban efforts in Afghanistan.
O'Reilly, who had previously defended Hastings' article while also dismissing Rolling Stone, pushed back and told an aggrieved Geraldo to "take a deep breath." But Geraldo had thought this through, making the very clear (if not somewhat outlandish) comparison of Hastings to al Qadea, saying:
Two days before 9/11, two al Qaeda terrorists posing as journalists got up to Sheik Massoud, our most valuable ally in Afghanistan. They blew themselves and Sheik Massoud up. A tremendous setback. I maintain historically that the removal of General McChrystal at the hands of this freelance reporter for Rolling Stone has almost comparable strategic significance. This was a major deal. And to do it under those rules, where you have to admit your third gin and tonic. You are frustrated. You are waiting for the volcanic ash to clear. Everybody is on their most relaxed behavior to get a statement, an utterance like that. An utterance but not the General himself but by one of his over eager macho staffers is something that you have an obligation and honorable obligation to check out before you rush to the press knowing that you have done is removing a fine soldier who has risked his life for his country time and time again.
Have a tip we should know? tips@mediaite.com