Geraldo On TSA: 'I Got Manually Raped By A Guy,' '[He] Was Getting Off On It.'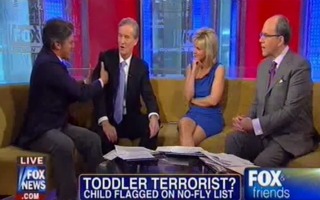 Geraldo Rivera appeared on Fox & Friends on Friday where he described an intrusive inspection he had received from a Transportation Security Administration officer on a recent trip to Afghanistan. "I got manually raped by a guy," said Rivera. "This guy, it seemed to me, was getting off on it."

RELATED: Geraldo Battles Fox & Friends Hosts Over Support For Civilian Trials For Terrorists
Co-host Gretchen Carlson introduced Geraldo by asking him to weigh in on a story where a toddler was recently removed from an airplane and flagged on the no-fly list.
"I was on the no-fly list," said Rivera. "For a long time when they first computerized the no-fly list, I would get my boarding pass and it would have three "S's."
"I saw it and was immediately shuffled off to a side search where the enhanced interrogation and search took place," Rivera continued, "And I was so frustrated. I called the TSA, and I called and I called. I went on television. I exposed them, I embarrassed them. I said, 'can't ya?' And they just could not remove my name from the computer that had the no-fly list."
"Was there another Geraldo Rivera," asked co-host Steve Doocy.
"I don't know," said Rivera. "I'm not exactly sure what their motivation is other than sheer incompetence. But I understand this family's frustration."
"How'd you finally get off the list?" asked Carlson.
I finally – I guess, Gretchen – after enough kicking and screaming and embarrassing, embarrassment to the TSA of their utter incompetence in terms of managing this program – they talked about glitches in the computer program – at some point, they finally got it together. But it was quite a while. And, you know, there's a lot of dysfunction in the TSA. I think there is a lot of merit in people who say it should be re-privatized. I don't necessarily endorse that, but I tell you the last time I flew to Afghanistan I got manually raped by a guy who – the scanner wasn't working…
"He wanted to make sure…," Doocy offered as an attempt at clarification.
"But making sure is one thing," said Rivera. "This guy, it seemed to me, was getting off on it…"
"Oh my gosh," laughed Carlson.
"…And the more and the tighter I got and the angrier I got," said Rivera. "You know, he just wanted to be a little more intimate."
Rivera than manhandled Doocy in an attempt to illustrate the intrusive TSA inspection he had received. "I said, man-oh-man, if that was [Fox News anchor] Shep Smith that would have been a real blow out," Rivera noted. "You know, Shep has said 'don't touch my…"
"J.U.N.K.," noted Carlson.
Watch the exchange below via Fox News Channel:
Have a tip we should know? tips@mediaite.com