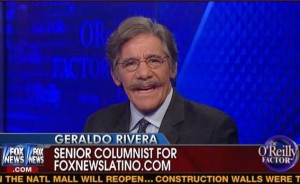 On tonight's O'Reilly Factor, Laura Ingraham invited on Geraldo Rivera to react to last night's incredibly hilarious and unbelievably confusing speech by Clint Eastwood at the Republican National Convention. Rivera was completely befuddled by Eastwood's embarrassing display, and said it would have been better if the speech had been shorter.
RELATED: Clint Eastwood Gives 'Invisible Obama' The Best Lines Of His Performance Art Speech
Ingraham said she loved Eastwood's speech for how much it excited the crowd and how much it riled up liberals. Rivera first referenced his own contentious history with chairs before pointing out that Eastwood's "buffoonery" completely eclipsed Mitt Romney's acceptance speech for the Republican nomination last night.
Rivera said that if Eastwood had cut his rambling down instead of going on for over ten minutes, it would have seemed more coherent. Ingraham agreed that it could have been shorter, but argued that Eastwood was better sticking with the improv as opposed to reading off a prompter. Rivera suggested that the night of Romney's nomination was not a time for levity, but Ingraham disagreed, saying "the country needs to laugh."
Ingraham challenged Rivera over whether he's had similar reactions to liberal celebrities supporting Obama. Rivera said Eastwood's politics didn't bother him, it was off-putting for him to "be making sex jokes about the president of the United States." He added that Eastwood's attempt at humor wasn't even that clever.
When Rivera suggested that he could have done a better job vamping than Eastwood did, Ingraham told him no one could have possibly pulled off what Eastwood did.
Watch the video below, courtesy of Fox News:
Follow Josh Feldman on Twitter: @feldmaniac
Have a tip we should know? tips@mediaite.com
Josh Feldman - Senior Editor