Geraldo Rivera Squares Off Against Ann Coulter and Judge Pirro On 9/11 Trials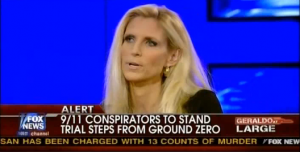 Once you've heard from those directly involved, it's time to turn the issue over to the screaming heads. Sunday morning on Geraldo At Large, a particularly boisterous panel, featuring Rivera, Ann Coulter, Judge Jeanine Pirro and comedian Joe Piscopo, took on the issue of the recently announced 9/11 terror trials to take place in New York City.
With a "tsunami of reaction" flooding in since the federal government's decision to try Khalid Sheik Mohammed and his alleged co-conspirators on U.S. soil, in federal court, Rivera sees justice that will "reverberate" throughout the world. His emotional appeal and search for a symbolic victory seem noble, and play well on TV despite the lack of a legal basis. But on Fox News' Sunday lineup, he's outnumbered. "I suspect, Ann, that you're not very happy with my position on this particular issue," Rivera began.
"A lot rides on this for Obama," Coulter said, stating that either the Obama administration gets a conviction and looks like a "macho studs" or "they blame everything on the Bush administration." At this point, she's on auto-pilot as she derrides the "crazy liberal base of the left," specifically frequent targets MSNBC and MoveOn.org. Never quite stating a position, Coulter's airtime is limited, leaving her a less imposing panel member than usual, but it's clear that she believes that a war act deserves a military tribunal, despite Rivera's point that most of the murdered were civilians.
And Coulter is none too fond of the trial's planned locale: "We're in New York…," she noted, scoffing at the well-known bastion of sin also known as the island of Manhattan.
Rivera remained confident, but emotional, saying that the "sissy muderin' pig Khalid Sheik Mohammed" has confessed "out his tushy" since he was captured, making a conviction a sure thing. 
Judge Pirro, meanwhile, made the strongest, most convincing case in the short panel format, arguing that it is clear from the start that these suspects have been treated unconstitutionally and argues that there's no reason to give them rights now, for fear of a judge throwing out the case. "This is insanity! We are affording Constitutional rights to war criminals," she said. Her legal background and rhetorical passion made her the clear panel leader, even with Rivera's patriotic, New York-centric appeals.
Piscopo provided the comic relief, recommending a Sopranos-style end for the suspected terrorists. "What happened to good old fashioned covert action?" he asked. Check out the whole dialogue in the clip below:

Have a tip we should know? tips@mediaite.com