Geraldo Rivera's Finest Moment: How The Much Maligned Anchor Broke The Bin Laden News Best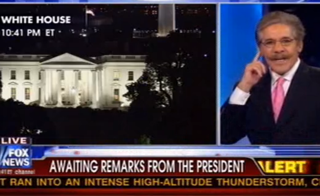 Nearly 24 hours removed from what is possibly the most significant and joyous national security announcement of the past several decades, Americans have seen nearly the full spectrum of possible responses to journalists finding out inhuman terror monster Osama bin Laden is dead. And while Glenn Beck brought out a marching band today and the New York Daily News cheerfully instructed bin Laden to "Rot in Hell," in breaking the news, no one could top Geraldo Rivera's pure euphoria.
Rivera, who was on deck to anchor his regular program At Large, appeared as confused as all of Twitter around 10 PM, when the White House announced the news that the President would speak about an unknown topic within the hour. After about a half hour of errant speculation on the life and health of Muammar Gaddafi, a light bulb went off in Rivera's head. "Wait a minute– hold it. Ladies and gentlemen, something I just thought of," he interrupted White House correspondent Mike Emanuel, "what if it's Osama bin Laden?" Rivera promised high fives and cheers all around if that were the case, and did not fail to deliver when the confirmation came. After a few technical difficulties and, yes, high fives, Rivera got several foreign correspondents on the phone and clapped and danced in his seat as they confirmed the news. By the end of the night, he was out cheering and crowd surfing with college students dancing on bin Laden's grave in front of the White House. Today, he published a quick column on Fox News Latino chronicling exactly why he was so happy– he took the September 11th attacks so personally they directly led to him finding employment at a network that would let him indulge his obsession with its aftermath: Fox News.
It's difficult to give props to Geraldo Rivera. Building a legal career out of militant Puerto Rican separatism only to hop on TV and spend decades highlighting the absolute worst in America– from local news reports on crack houses to his Jerry Springer-esque talk show to the Milli Vanilli of journalism, "The Mystery Of Al Capone's Vault"– few can challenge his reign as America's most prominent media punchline. Even when he has tried to be serious, he has somehow found a way to elicit snickers; think the time he got kicked out of Iraq for being a national security threat, or the time he wrote an "autobiography" entitled Exposing Myself that read like more of a "to-do" list of famous women than a serious attempt at telling his life story.
That's not to be overly harsh on Rivera or to undermine the role he played to Americans last night, but only to emphasize how much more unexpected it was to see him rise so strikingly to the occasion. As my father noted rather bemusedly last night, he is the last person one expects to accurately speak for all America on a serious issue, but he was the only journalist on the air that night with his heart sufficiently placed on his sleeve to stop being an anchor for a little bit of time and just react like a human, specifically, a New Yorker. For once, Rivera was being genuine at the risk of coming off melodramatic, but pulled it off without a hitch (well, except making the dreaded Obama/Osama mistake, but even that came off as endearing).
Sure, many will refute that a journalist getting emotional is the proper decorum for someone privileged with such a responsibility. One must imagine that other stations where "momentous" and "historic" were preferable adjectives for the night than "celebratory" may disagree, and the ratings show that, in breaking news, Fox is still not #1. But last night was unquestionably the best broadcast of Rivera's life; he said so himself. No one better captured the breathless, unadulterated relief of knowing a man who had caused so much suffering had finally reached his end after a life that will go down as one of the most repulsive in human history, and for that, at least part of the debt of good reporting Rivera owes to his viewers has been paid.
Watch part of Geraldo's historic broadcast below:

Have a tip we should know? tips@mediaite.com