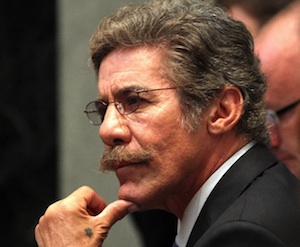 Geraldo Rivera revealed on Friday that his own son Gabriel was ashamed of the Fox News anchor's controversial remarks that Trayvon Martin's hoodie was as much responsible for his death as George Zimmerman. "Its not blaming the victim, Its common sense-look like a gangsta & some armed schmuck will take you at your word," he later tweeted.
"I am urging the parents of black and Latino youngsters particularly to not let their children go out wearing hoodies," Rivera said on Fox and Friends this morning. "I think the hoodie is as much responsible for Trayvon Martin's death as George Zimmerman was."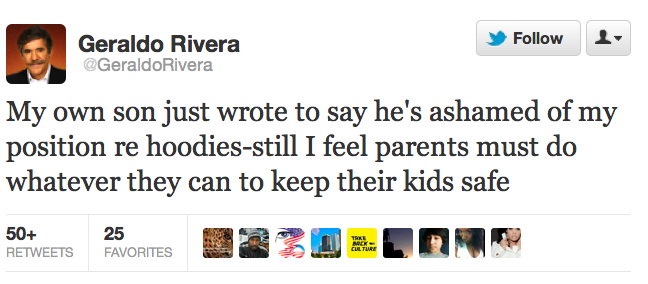 Geraldo went on to say:


RELATED: Geraldo Rivera: 'The Hoodie Is As Responsible For Trayvon Martin's Death As George Zimmerman'
Rivera told Politico's MJ Lee that he attempted to reach out to his son to no avail:
"Gabriel broke my heart. He's my oldest, 32, and he just told me that for the first time in his life he's ashamed of what I wrote on [Fox News Latino]," Rivera said in an email.

"I wrote him, and I'm telling you that my mission is to save kids' lives in the real world," the Fox News host said. "We can bluster and posture all day long about the injustice of it all, but despite what Roland Martin or even my son Gabriel Miguel Rivera says, every hoodie should come with a warning like cigarettes, 'caution wearing this could get you killed…"Gabriel wrote back to say I've gone viral for all the wrong reasons. :( "
Geraldo refused to take back his provocative comments.
"No I don't retract a word of it because I'm concerned with saving kids lives," Rivera said.
Have a tip we should know? tips@mediaite.com