Geraldo Shocks Fox Hosts: 'Military Industrial Complex' Is 'Seizing' On 'Preposterous' North Korean Threat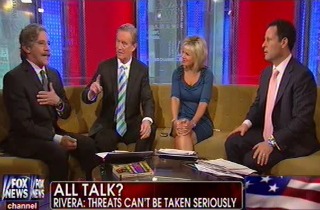 Fox News Channel host Geraldo Rivera made some explosive accusations on Fox & Friends on Friday when he claimed that North Korea does not represent a threat, but the American military does — at least, to the nation's treasury. He said that the minimal threat posed by the aggressive and nuclear-armed Democratic People's Republic of Korea will be used as an excuse to justify more military-related expenditures. "It is preposterous," he said of a ballistic missile defenses currently en route to Guam as part of a deterrence strategy. "I'm telling you, you will break the bank. That is precisely what he wants."

RELATED: Fox Guest Urges Network To Rally Behind Obama Against North Korea: Don't 'Let Olympus Has Fallen Become Reality'
When asked if he feared a military conflict with North Korea, Rivera replied that he had "absolutely no fear."
"My fear is that the military industrial complex in the United States is seizing now on this freak in North Korea," he continued. "This is going to be the next gigantic expenditure."
He said that a North Korea threat will be used to justify the expansion of ballistic missile defense programs and the development of new weapons platforms like the F-22 and F-35 fighter planes.
"This is not a threat," Rivera declared.
Brian Kilmeade reminded him that they have miniaturized what some experts believe to be a uranium-based weapon, and intend to export that technology. Rivera said that the export of that power is one thing, but he dismissed the North Korean's arsenal. "He is not going to end the world," Rivera said.
He added that America's best course is to engage in aggressive diplomacy which would include involving the Japanese more and exerting pressure on China to rein in their ally.
Rivera said that a missile defense program would "squander our treasure," which is precisely the course that America's enemies would prefer.
Rivera suggested that in the event of a North Korean provocation, like one in 2010 which was characterized by the artillery shelling of a South Korean island which resulted in multiple deaths, that America should then "ratchet up the economic sanctions."
Watch the clip below via Fox News Channel:
> >Follow Noah Rothman (@NoahCRothman) on Twitter
Have a tip we should know? tips@mediaite.com