Geraldo Slams Politicians In Verdict Tweet, Clashes With Fox Guest: 'Sometimes Awful Things Happen'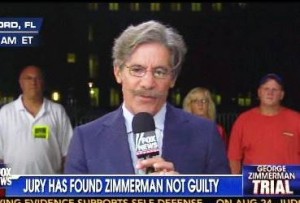 Fox News pundit Geraldo Rivera predicted weeks ago that George Zimmerman would be acquitted because the almost-all-white jury made the situation "the opposite of the O.J. Simpson case." In his first post-verdict tweet, Rivera touted that anyone who listened to him would have expected the not guilty verdict, while on Fox News, he clashed with two guests over the actions of both George Zimmerman and Trayvon Martin the night of the shooting. Rivera said that "sometimes awful things happen to nice people."
RELATED: Geraldo: Al Sharpton And 'Race Politics' Forced Florida To Pursue 'Weak' Case Against Zimmerman
Rivera tweeted out the following after the jury reached its not guilty verdict.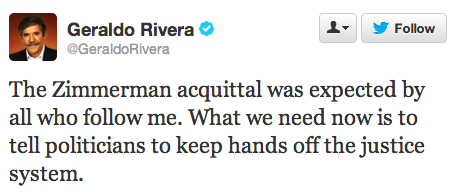 He did point out a few hours later that the Martin family can still potentially file a lawsuit against Zimmerman, since the verdict was not that he's innocent, just not guilty.
Meanwhile, during a Fox News appearance during the night, Rivera brought up the possibility of the Department of Justice filing charges. Fox News contributor Ted Williams said they should at least look at it, but ultimately "the jury has spoken." Former DC homicide detective Rod Wheeler made it clear that race was a big part of the case. He said, "Michael Vic was convicted of killing a dog, and he did three years in jail, but then you got a guy named Zimmerman who can shoot an African-American child and he walks free."
Rivera shot back that Zimmerman was just patrolling the area after a series of break-ins and robberies, and Martin was a "stranger in the community." He acknowledged the death was a tragedy, but "sometimes awful things happen to nice people" and said the best thing any parent can do is to tell their kids to avoid these kind of confrontations.
Wheeler insisted there's still an issue of profiling involved, and invoked Rivera getting criticized by his own son for his controversial remarks about Martin's hoodie. Williams also clashed with Rivera over Martin's actions in confronting Zimmerman instead of fleeing, and whether that made "practical sense," as Rivera put it.
Watch the video below, via Fox News:
—–
Follow Josh Feldman on Twitter: @feldmaniac
Have a tip we should know? tips@mediaite.com
Josh Feldman - Senior Editor