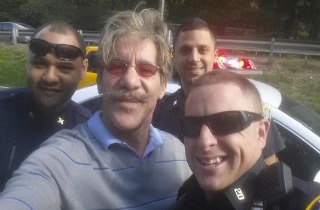 Fox News anchor Geraldo Rivera and his public selfies go hand-in-hand, whether he's updating followers on his travels, showing off his 71-year-old body or simply making a shirtless commentary about Benghazi.
On Sunday, he snapped a selfie after sharing that his wife Erica and daughter Sol had just been in a car accident.
"Erica and Sol are fine but her Range Rover's a mess after guy from out of state stopped short on the West Side Highway," Rivera wrote on Twitter. Included with the tweet was a photo of what appeared to be the damaged front bumper of a blue car on a highway. Behind it was a police car.
Four minutes later, Rivera sent out another tweet, this one featuring a photo of himself with three smiling police officers. "Thanks to Officer Kublo and others from the 20th Pct who responded professionally and promptly to Erica's accident," it said.
This is not the first personal car accident Rivera has shared with his followers. Back in January he slammed into the back of a cab with his Bentley while driving to work. He took a selfie with his damaged car after.
thanks to Officer Kublo and others from the 20th Pct who responded professionally and promptly to Erica's accident pic.twitter.com/XayFbOot0M

— Geraldo Rivera (@GeraldoRivera) October 19, 2014
Erica & Sol are fine but her Range Rover's a mess after guy from out of state stopped short on the West Side Highway pic.twitter.com/TR1DI7AkIY

— Geraldo Rivera (@GeraldoRivera) October 19, 2014
[Photo via Twitter @GeraldoRivera]
— —
>> Follow Eddie Scarry (@eScarry) on Twitter
Have a tip we should know? [email protected]