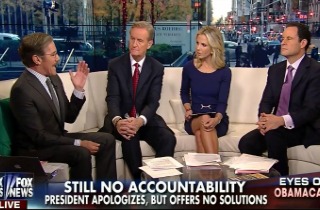 The hosts of Fox & Friends grilled Fox News Channel host Geraldo Rivera on Friday morning over whether President Barack Obama 'lied' when he assured the American people that they would be able to keep their existing health insurance plans when the Affordable Care Act took effect. Rivera said he was uncomfortable saying the president "lied," but it was clear that he had "misrepresented" the effects of the ACA.

The Fox & Friends hosts began the segment by playing a clip of Obama apologizing to the public in an interview with NBC News reporter Chuck Todd.
"He's a proud, some say, arrogant, stubborn man," Rivera said. "I think that's as close, Elisabeth, as you can possibly come to an apology."
"He had the unfortunate confluence of events," Rivera continued. "He also had the fact that he clearly misrepresented what the law said. Maybe he didn't read it?"
RELATED: Geraldo and Ingraham Battle Over Obama's Competence in Syria, Benghazi
"You don't think he lied?" Steve Doocy asked. "You're saying misrepresented. he knew what he was saying. He's a lawyer."
"The only reason I hesitate, Steve, is he's the president," Rivera replied. "I hate to say he lied. I mean, it took me a long time to get there with Richard Nixon."
"Clearly, he misrepresented what the reality was," he continued. "Now his party is in severe trouble.'
Rivera advocated for gradually increasing delay of the individual mandate as long as the insurance exchange website remains down.
Watch teh clip below via Fox News Channel:
[Photo via screen grab ]
— —
> >Follow Noah Rothman (@NoahCRothman) on Twitter
Have a tip we should know? tips@mediaite.com