Geraldo Struggles To Defend Palestinian 'George Washington,' Yasser Arafat, To Baffled Fox Hosts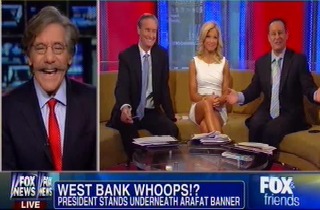 Fox News Channel host Geraldo Rivera appeared on Fox & Friends on Friday where he struggled to defend the late Palestinian leader, Yasser Arafat, as well as the decision by President Barack Obama to stand beneath his portrait during a joint press conference with Mahmoud Abbas in Ramallah on Thursday. Rivera attempted to explain to the incredulous Fox hosts that Arafat, implicated in scores of terrorist acts, was the Palestinian equivalent of George Washington.

RELATED: Geraldo: Obama Has Proven To Be One Of Our Most Efficient Warrior Leaders
"We know that you, one upon a time, knew Yasser Arafat," said Steve Doocy. "He is regarded though as the father of modern terrorism." Doocy asked if Rivera thought it was mistake for the White House to let Obama be photographed beneath a picture of Arafat.
"I don't necessarily agree with that assessment," Rivera shot back. "He's a very complex man. Yes, I think it is fair to say he's the father of modern terrorism, but I hasten to note that Menachem Begin, one of the founding Prime Ministers of Israel, also had the same label back in 1946 when he blew up the King David hotel."
"Arafat is generally regarded as the George Washington of the Palestinian people," Rivera continued.
"Did George Washington steal from the American colonies?" asked a shocked Brian Kilmeade. "This guy stole billions of dollars from his own people and then died without telling anyone where he put it."
Rivera reminded the hosts that Arafat won the Nobel Peace Prize in 1993. "We forget how close they came with those Oslo Peace Accords," Rivera opined. He said that Arafat will go down in history as having a "mixed legacy."
Kilmeade reminded Rivera that they all agreed that Arafat killed and stole from people and the White House still let the president stand beneath a his portrait. "There's no doubt about it that Nobel Peace Prize should never have gone to him because Bill Clinton said the biggest mistake of his presidency was banking on him to bring peace because he was never sincere," Kilmeade exclaimed.
"Well, you know, that may all be true," Rivera agreed. However, he said that Arafat remains a Palestinian hero. "I think that for you to make him something that, from the point of view of an American president or the American people, I think is unfair," Rivera added.
He concluded by asserting that one of the reasons that peace has been so hard to achieve in the region is the lack of nuance with which the American people view the legacy of Arafat. He noted also that "far more Palestinians than Israelis" have died in the long-running conflict between the two peoples.
Watch the clip below via Fox News Channel:
> >Follow Noah Rothman (@NoahCRothman) on Twitter
Have a tip we should know? tips@mediaite.com