Geraldo To Fox & Friends After Slamming Sandy Bill's Pork: 'We Are Men Of Courage' Not 'Sleazy' Politicians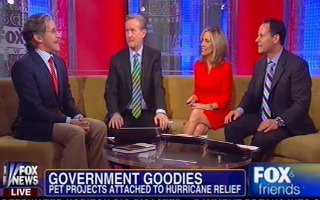 Geraldo Rivera joined the hosts of Fox & Friends on Friday where he offered his opinion on this week's dustup between New Jersey Gov. Chris Christie and House Republicans over a stalled Hurricane Sandy relief bill. He slammed the bill which was loaded with pork projects by Republican and Democratic Senators so that it could pass the upper chamber. When asked why so many were afraid to say what he had said, that the bill was dirty, Rivera replied "we are men of courage" and not "sleazy" politicians.

"There were things that were completely unrelated and there were things for future storms," Alisyn Camerota said of the Sandy Relief bill that passed the Senate. "Do they belong in a bill for victims?"
Rivera cited a Forbes Magazine analysis of the Sandy relief bill and said that it contained aid, for example, also to places like Alabama, Louisiana, Mississippi and Texas. Rivera said that this was done to "buy seven Republican votes" in the Senate to secure a filibuster-proof majority.
"We have to understand that these politicians are not motivated by the grand necessity to help people stricken by the storms, they are into constituent service," Rivera added. "We have to be strong enough to resist the passion where politicians try to pray on our sentiments to extort tax money to distribute."
"I would have expected a more level-headed response from Republicans and Democrats who know what you know, and know this wasn't a clean bill," said Brian Kilmeade.
"They're afraid, Brian," Rivera replied. "Do you want to face Governor Christie? And that rage?"
"Yeah," Kilmeade said. "You would have no problem facing him if you knew you were right."
"Yeah, but we are men of courage," Rivera answered. "We are not people who are elected and that sleazy, try to be reelected and that becomes our number one priority."
Watch the clip via Fox News Channel:
> >Follow Noah Rothman (@Noah_C_Rothman) on Twitter
Have a tip we should know? tips@mediaite.com