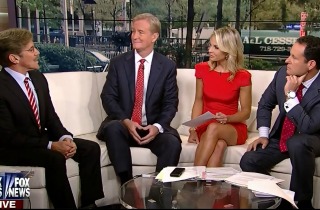 Fox News Channel host Geraldo Rivera sat down with the hosts of Fox & Friends on Friday to discuss his exclusive interview with Iran's Foreign Minister. Rivera tried to convince the hosts of Fox & Friends that the Islamic Republic's diplomatic overtures to the West were genuine and that a thaw in America's frosty relationship with that country is now possible.

Rivera revealed on Friday that the Iranian delegation to the United Nations decided to give him an interview when they saw him voicing strong opposition to President Barack Obama's proposed strike on Syria.
Rivera spoke with Iranian Foreign Minister Mohammed Zarif after his bilateral meeting with Sec. John Kerry. "I believe political leaders need to be optimistic about the future," Zarif told Rivera. "I believe it's a non-issue, but at least we need to remove any doubt on the exclusively peaceful nature of our program and, at the same time, make sure that everybody respects our right."
RELATED: CNN, Amanpour Defend Network From Accusations They Mistranslated Iranian President
"They don't even admit there's a weapons program," Brian Kilmeade observed.
"Their contention is that they have no intention of forging ahead to make a nuclear weapon," Rivera countered. "They call it a pseudo issue."
"I have to say, you can be extremely skeptical — trust but verify and all the rest of it," he continued. "But when you consider it has been 35 years we have been arch enemies, this, to me, is an opening and I hope it's real. We don't know, but it certainly is worth pursuing."
Kilmeade shot back that Iran's new president, Hassan Rouhani, met with Louis Farrakhan but rejected an offer of an "encounter" with Obama.
"I applaud your skepticism," Rivera agreed. "But you have to admit, Brian, that this is a far more optimistic possible scenario than what we've been going through for the last four decades, right?"
"As an experienced war correspondent, as a person who cares deeply about Israel — and Israel's so profoundly concerned about Iran's nuclear weapons — I have to say that this is the most optimistic development in my entire career since 1979," he continued.
Steve Doocy asked Rivera what he'd think if it turned out that the so-called "charm offensive" is merely a stalling tactic with the aim of possibly reducing the burden of sanctions on Iran while they complete their work on a nuclear weapon.
Rivera said that he thought the sanctions have had their desired effect and this "opening" for dialogue was worth pursuing.
Watch the segment below via Fox News Channel:
[Photo via screen grab ]
— —
> >Follow Noah Rothman (@NoahCRothman) on Twitter
Have a tip we should know? tips@mediaite.com