Geraldo To O'Reilly: Santorum 'Torpedoed His Campaign' In Puerto Rico With English Comments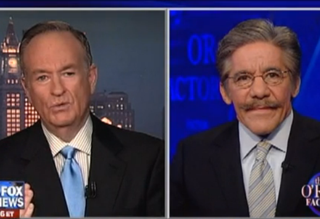 "Rick Santorum sabotaged his chance to get 23 delegates, Bill, he put his foot in his mouth," Geraldo Rivera told Bill O'Reilly last night as the two debated the candidate's comments on Puerto Rico– namely, that the English-speaking (though not exclusively) island should learn to speak English if it wants to be considered for statehood. While O'Reilly sympathized with the idea of an official language, Rivera– half-Puerto Rican himself– noted that the problem with Santorum's comments was the fact that schools there already teach the language.
RELATED: Santorum Called 'Doofus' For Claiming English Must Be 'Main Language' For Statehood
When asked about Puerto Rican statehood, Santorum said earlier this week that the island "should speak English and should be a common language among all Americans," a comment that spearheaded a week of Puerto Ricans trying to explain that they are actually U.S. citizens and speak English and could you please stop asking them about illegal immigration? Anyway, Rivera thought this was all it would take for Santorum to lose any potential vote he would have gotten on the island. "Rick Santorum sabotaged his chance to get 23 delegates, Bill, he put his foot in his mouth– English is already an official language in Puerto Rico along with Spanish!" he told O'Reilly, adding that "Republicans in Puerto Rico only care about one issue: statehood," so flubbing the question was a political death sentence. The Puerto Rican Republicans, he noted– even those in favor of statehood– were concerned that such a move would put "the cultural and linguistic heritage of five centuries" in jeopardy, and "what Santorum does is fuel the flames of that fear."
O'Reilly did not think it was all that serious, and asked whether, generally, the idea of having one official language in public schools was so bad of an idea. Rivera replied that, having spoken to Sen. Marco Rubio previously this week, the Cuban-American senator compared Puerto Rico to Hawaii, which entered the union with two official languages and not that much of a hullabaloo about it.
The conversation then shifted gears to Sen. Rubio himself, who continues to say he is not interested in being the Republican Vice Presidential candidate "for now." Rivera predicts that Rubio will, in fact, run, declaring, "mi país me necesita." O'Reilly and Rivera also touch on Rivera's nature as a swing voter, his predictions for November and Tom Hanks's flop, "Incredibly Close, Extremely Loud, Or Whatever."
The segment via Fox News below:

Have a tip we should know? tips@mediaite.com