Geraldo's Celebrity Apprentice Teammates Annoyed by His 'Most Egotistical Manner'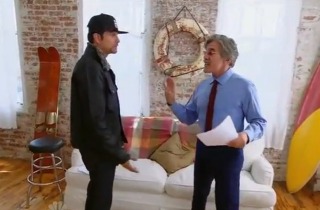 It's still early in Celebrity Apprentice 7, but Fox's Geraldo Rivera has already gotten off to a rough start seemingly annoying his teammates with a self-important flair on display during Monday evening's episode.
Among Rivera's partners on the male-only Team Vortex are Kevin Jonas, actors Lorenzo Lamas and Ian Ziering, and Deadliest Catch star Sig Hansen. Those men played a significant role in the conflict from last night's broadcast.
After Hansen secured the services of his friend Mike Rowe (of CNN and Dirty Jobs fame) to do voiceover for their product, Rivera suggested the above teammates were "obviously" trying to "conspire against" him.
"You know, I'm not a bad voice-over either if you want me too," Rivera complained after celebrating the Rowe gig with his teammates. "My voice is as recognizable and would have been more effective in this spot."
Later on, Rivera attempted to butt into a strategy conversation, causing Jonas to berate him: "Five second rule: walk into a conversation, wait five seconds to hear what's going on and then you can speak."
"Don't give me that bullshit, man," Rivera flipped in the clip first flagged by RCP. "It's very annoying. And don't grandstand with me, dude. I've been around the block too long."
Feeling as though his teammate was feeling left out, Lamas offered Rivera the chance to record voiceover in case Rowe was unavailable. When the pair went off to capture the audio, the Fox News personality pushed the actor away, telling him to "go be in Hollywood" and stop "acting" nice to him.
"It is the most egotistical manner in which I've seen anybody behave on a set, and I've been doing this for 30 years," Lamas said in a confessional.
Rivera's behavior on the highly-edited show has been noticed by more than just his teammates: One TV critic called him "rather overbearing and insufferable"; another remarked how he is "constantly patting himself on the back."
But in a show that requires its contestants to be masters of self-hype on the same level as its host, Donald Trump, this could ultimately pay off for Rivera.
Watch the clip below, via NBC:
— —
>> Follow Andrew Kirell (@AndrewKirell) on Twitter
Have a tip we should know? tips@mediaite.com