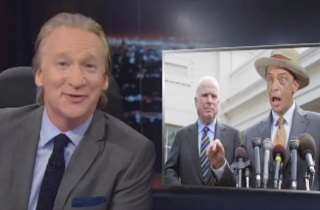 For his final "New Rule" on Friday evening's Real Time, Bill Maher went after war hawk conservatives for hyping domestic threats from ISIS and "other brown people," while ignoring other pressing matters at home.
"When it comes to being baited into war, America has to try and not be so fucking easy!" Maher shouted. The HBO host suggested that before video emerged of ISIS beheadings, most Americans had been hesitant to intervene in foreign affairs. But upon seeing the footage, they went weak at the knees, saying, in his estimation, "Oh, war, we can't stay mad at you."
The comedian went after hawkish Republicans like Sen. Lindsey Graham, who likely "collapsed onto his fainting couch" after declaring that we are all dead if the president does not eradicate ISIS immediately. He also mocked Republican lawmakers who claim that along with undocumented immigrants, ISIS forces are currently invading the United States via the southern border.
"Oh, my God, the brown people, and the other brown people," Maher teased. "Mexicans and ISIS sneaking into the country together? They're going to cut off our heads with a hedge trimmer."
The HBO host noted that he does feel bad about the journalists beheaded by the jihadist group, but cautioned: "When you choose to live among cutthroats, you might get your throat cut."
"Do Americans living here actually think it's going to be them next?" he asked. "Get a grip."
Watch the segment below, via HBO:
— —
>> Follow Andrew Kirell (@AndrewKirell) on Twitter
Have a tip we should know? tips@mediaite.com