'Get Angry!' Eric Bolling Explodes Over Obama's 'PC Crap,' Response to Istanbul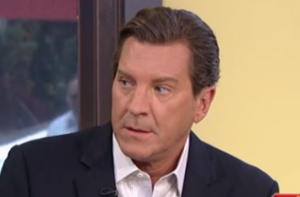 During the North American leaders' summit, President Obama took some time today to promise support to Turkey and condemn the terrorists behind the horrific attack on an airport in Istanbul. Fox News' Outnumbered panel was watching that address, and they were furious with the way in which the Commander in Chief addressed the bombings.
Obama's remarks came during a meeting in Ottawa with the leaders of Canada and Mexico, where they discussed matters that included NAFTA and climate change. "We stand with the people of Turkey and we intend to do what's necessary to make sure these kinds of terrible events are not happening," Obama said.
When today's #OneLuckyGuy Eric Bolling was given his turn to respond, he was livid that Obama's response was as brief at it was, and that he decided to move on "happier" subjects.
"This is ridiculous," Bolling blasted. "'On a happier note?' There is no happier note right now. It's insane. This PC crap where we can't call Islamic Terror what it is and pointed out and say we will defeated is why it keeps happening!"
Meghan McCain and Harris Faulkner chimed in with their own critiques, though Julie Roginsky said there were logistics that the president had to take into account. Bolling wasn't having any of that, and when Roginsky asked what Obama could've done differently, Bolling knew exactly what he should've done.
"Get mad! Get angry! He could create some concern, some alarm and shake up the global community and say we need to join together!"
Watch above, via Fox.
[Image via screengrab]
— —
>> Follow Ken Meyer (@KenMeyer91) on Twitter
Have a tip we should know? tips@mediaite.com