Those of you who have been eagerly counting down the minutes until Stephen Colbert returns to late night may be partly sated with the arrival of the official Late Show with Stephen Colbert website.
And it is chock full of Colbert-related goodies.
First off, just look at this promo photo, replete with Colbeard: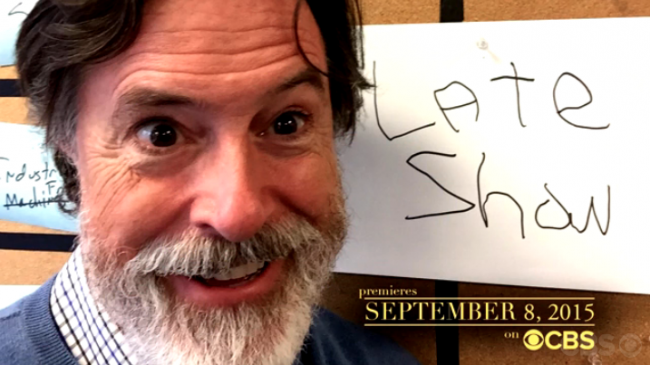 And this is the introductory message by the big man himself:
Salutations!

Big news, America: there's a new website. Welcome to ColbertLateShow.com, the Internet's number one source of news about the upcoming The Late Show with Stephen Colbert, and number 37 source of off-brand American Girl Dolls, from Sweet Rebetha to Smindy of the Plains.

This site is where you'll find the latest behind-the-scenes updates, videos, podcasts, photos, pics, images, visual representations, and smells, as we work hard putting together a brand new show for you. Think of this site as the Early Late Show of the Future, in the Present!

So now, just sit back, relax, lean forward, tense up, and click my bait!

Stephen Colbert
President, "The Late Show With Stephen Colbert"
It's clear CBS wanted to start getting people excited for Colbert after letting people give David Letterman a proper goodbye.
Colbert's Late Show––kicking off on September 8th––already has an official Facebook page, and this was their introductory Twitter message:
Official "The Late Show with Stephen Colbert" Twitter Account Launches to Enthusiastic Audience of Nobody Yet!

— The Late Show on CBS (@colbertlateshow) June 3, 2015
And if you're eager to hear Colbert speaking again, there are two big things on the website already available to check out. First, Colbert and various staffers got together for the first installment of a Late Show podcast, talking all about the behind-the-scenes stuff they've been doing since The Colbert Report got its star-studded sendoff.
And then there's a video of Colbert discussing his now-infamous Colbeard. He shaves various parts of his facial hair off to come up with new looks that will surely appeal to millennials.
Watch the video below, via CBS:
And you can listen to the first Late Show podcast here.
Oh, and there's also a Colbr app you can get that'll also give you info on the show.
[image via screengrab]
— —
Follow Josh Feldman on Twitter: @feldmaniac
Have a tip we should know? tips@mediaite.com
Josh Feldman - Senior Editor