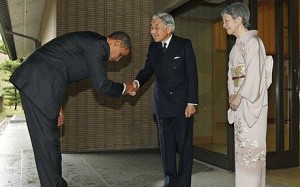 Pres. Barack Obama's trip to Asia already has a big media moment, and it's about the Commander-in-Chief bowing…again.
But this time, is the reaction warranted? Get ready to hear a lot about Bow-gate II.
Pres. Obama's bow upon his meeting with Japanese Emperor Akihito Saturday was so blatant, there's no discussion about it not being a bow, like there was last time the issue came about during a Saudi related bow in April. Check out the bow at the end of the post.
The bow caused the Los Angeles Times to go with a very tabloid-like headline, "How low will he go?" and had the Drudge Report splashing the photo as the lead story for a large portion of Sunday. It got the Fox Nation, as expected, up in arms, and got Liz Cheney comparing the bow to her father's bow a few years ago. Commentators on Fox News and MSNBC spent time this morning debating what it means for Obama – and whether it's a story at all.
But one of the most measured, researched takes came from ABC News White House correspondent Jake Tapper. Or rather, a friend of his who is an "academic with expertise about the Japanese Empire." Here's part of his conclusion about Bow-gate:
His bow is neither (1) unprecedented nor (2) a sign of cultural understanding…Obama's handshake/forward lurch was so jarring and inappropriate it recalls Bush's back-rub of Merkel…The bow as he performed did not just display weakness in Red State terms, but evoked weakness in Japanese terms….The last thing the Japanese want or need is a weak looking American president and, again, in all ways, he unintentionally played that part.
So, he got it wrong – but not to the degree that some on the right are making it out to be. Of course, this now opens up the entire Presidential bowing can of worms. One of the bows mentioned in Tapper's blog was former Pres. Nixon's, who bowed to the Japanese Emperor but in a notably slighter way. Meanwhile, Pres. Clinton's bow to the Japanese Emperor, which also was not nearly as blatant, got major attention – even by the New York Times – in 1994 (via).
Where do we stand? Well Press Secretary Gibbs is likely to be asked about it at the next opportunity, and there's a new soundbite. But we have the video – and so do the cable news networks. Get ready to see a lot of bowing, and Bow-gate to last…at least until we get some juicy Sarah Palin clips to focus on incessantly.
Watch the bow:


—–
» Follow Steve Krakauer on Twitter
Have a tip we should know? tips@mediaite.com