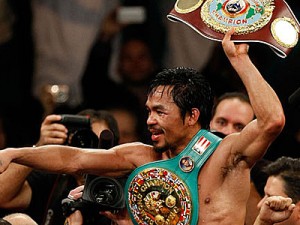 The L.A. Times is reporting that Bob Arum, promoter for world champion boxer Manny Pacquiao, arrived in the Philippines today to hammer out the final details for Pacquiao's March showdown with Floyd Mayweather Jr. The fight, which some have already deemed the fight of the century, is expected to break all sorts of records and draw the type of media attention usually reserved for Super Bowls.
The public has been salivating over a possible Pacquiao-Mayweather fight for months, and the upcoming media blitz is expected to turn the event into a full-fledged spectacle. But if the fighters agree to a March 13th fight, it leaves little time for a multi-city promo tour. Instead, both camps will rely on a huge New York press conference full of menacing staring and the requisite 24/7 specials on HBO:
HBO itself will be relied upon to alleviate some of the abbreviated pre-fight promotion. Ross Greenburg, president of HBO Sports, already has suggested that the popular "24/7" mini-series before the network's pay-per-view fights might be expanded to include a fifth installment, rather than just four, to reflect the heightened importance of the fight.
Already, both camps are worried about accommodating the loads of journalists and fans who want to see the fight. There are currently two viable locations to host Pacquiao-Mayweather. There's any number of traditional venues in Las Vegas, or the much more intriguing possibility of  Jerry Jones' new stadium in Dallas:
It seats more than 100,000. It has the largest big-screen television on earth, making every seat in the house a good one. It has a retractable roof — making the weather a non-factor. With the help of Cowboys owner Jerry Jones, the money making potential and hype for this fight would be unprecedented.
Regardless of location, the numbers will be huge. Mayweather is the sport's best technical fighter and most marketable villain, while Manny's popularity in overseas markets like Asia make him one of the most popular athletes on the planet. Oh, and Manny's also running for Congress and is an action movie star:
Have a tip we should know? tips@mediaite.com