Gibbs: Romney Is 'Taking The Battle Straight To Sesame Street' But Letting 'Wall Street Run Hog Wild'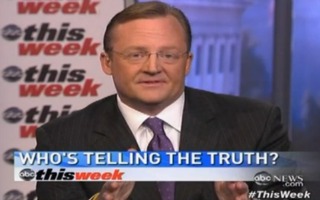 Former White House Press Sec. Robert Gibbs joined George Stephanopoulos on ABC's This Week on Sunday where he went after many of the pledges that Republican presidential nominee Mitt Romney made during Wednesday night's debate against President Barack Obama. Gibbs savaged Romney for not defending his positions, but rather invention entirely new positions to defend during the presidential debate. Furthermore, Gibbs said that Romney has offered insufficient detail for how he would fund his tax plan – citing "Big Bird" as the only thing he thought should be cut from the federal budget.

RELATED: Big Bird Responds To Mitt Romney On SNL
Stephanopoulos played a clip of a Romney campaign ad which quotes ABC News and the Associated Press saying that the Obama campaign's attempt to paint Romney as having been dishonest in the debates was "mostly fiction"
Stephanopoulos focused on the claim made by the Obama campaign, and later partially retracted, that Romney would have to raise $5 trillion in taxes to compensate for the lost revenue to the government by reducing tax rates. Gibbs said that the Obama campaign was not, in fact, backing off that claim.
"The question for Governor Romney is what loopholes are you going to close, supposedly, to make up for that revenue," Gibbs asked.
"He's stating unequivocally that he will not push the tax cuts if they increase the deficit and he will not push them if they force tax increases on the middle class," Stephanopoulos replied.
"Then he's got no economic theory," Gibbs replied. "Then he's walked away from 18 months of what this whole campaign's been about." Gibbs insisted that the Romney campaign has been persistently vague about the deductions that he would close in the tax code to make up for the lost revenue in reduced rates.
"The only thing he outlined that he would cut in the budget is Big Bird," said Gibbs. "He's take the battle straight to Sesame Street and let Wall Street run hog wild."
Gibbs said that Romney was willing to say anything to become president and that was something voters should understand.
When asked for his impressions on the upcoming vice presidential debate and whether he was worried about "gaffes" from Vice President Joe Biden like one in which he insisted the middle class has been "buried the last four years," Gibbs said that this line was not a gaffe at all.
"I don't think that was a gaffe," said Gibbs. "What the vice president was talking about is what he's been talking about every day, which is a series of eight years of…"
"He said they were very bad the last four years," Stephanopoulos interrupted.
"We've been digging out from what was an avalanche of bad economic decisions over the past eight years during the Bush administration," said Gibbs. He said he hopes Paul Ryan displays more truthfulness than Mitt Romney did during the first debate.
Watch the segment below via ABC:
> >Follow Noah Rothman (@Noah_C_Rothman) on Twitter
Have a tip we should know? tips@mediaite.com