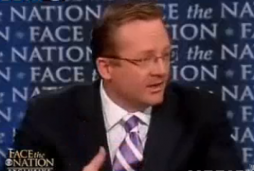 Press Secretary Robert Gibbs defended the administration this weekend from increasingly vocal charges that it has not been forceful enough in its response to the BP Oil spill. On Face the Nation he pushed back strongly against criticism the government had been slow to act, and then called out a number of people by name.
The government is doing everything human and technologically possible…We are watching everything that they are doing. There's no doubt we've had some problems with BP's lack of transparency, we asked that a video feed be made public and that took ten days…we are working every minute of every day to ensure the response is everything it should be.
Gibbs also revealed the Justice Dept. had been down in the Gulf to see if there was a basis for a criminal case and then pushed back against remarks from Rand Paul, assuring viewers that BP would be footing the entire bill for this catastrophe. Speaking of cozy relationships! (Bob Schieffer's words) Gibbs would like Sarah Palin to know that President Obama does not have one with the oil industry.
Sarah Palin was involved in that election, but I don't think apparently was paying a whole lot of attention. I'm almost sure the oil companies don't consider the Obama administration a huge ally…my suggestion to Sarah Palin would be to get slightly more informed about what's going on in oil drilling in this country.
Snap! Interestingly that's the first time in a very long time I have heard the administration address Sarah Palin in such direct, critical terms. Should we be expecting more along these lines? Meanwhile, these sorts of answers from Gibb about the what the administration has been doing do not seem to be impressing many. Over at This Week neither Cokie Roberts and Donna Brazile, both natives Louisiana, had nice things to say.
Said Cokie: "The oil is gushing and we're being lied to by how much oil is gushing…and the administration has now named a commission..Now this is what you do when you really don't have anything else to do: you name a commission…That's not going to stop the oil."
Said Brazile: "One of the problems I have with the [Obama] administration is that they're not tough enough…They are waiting for BP to say, 'oh we have a new plan to stop the oil leak.' They need to stop it, contain it, clean it up and try and help us conserve our coastal wetlands."
One suspects we may be hearing some tougher talk this week. Videos of both segments below.
Have a tip we should know? tips@mediaite.com