Gibson Guitars CEO On Fox: I've 'Committed Myself To Fighting' Unjust Targeting By 'Executive Branch'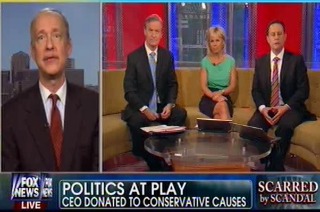 Appearing on Fox & Friends on Wednesday, the CEO of Gibson Guitars lambasted the federal government for targeting his firm "inappropriately." He said that the American system currently allows people linked to the executive branch to take sweeping actions for "very bad reasons," and added that he has committed to fighting that injustice "for years to come."

Gibson Chairman and CEO Henry Juszkiewicz told the Fox hosts that his firm was targeted by the U.S. Fish and Wildlife Service for using woods that were illegal in his company's guitars. He noted that he continues to use the contraband wood which his firm has and continues to purchase legally.
Asked if he thought his company was targeted because of his personal donations to conservative politicians and causes, Juszkiewicz said he could not be sure.
"But I clearly believe that someone targeted our company inappropriately," Juszkiewicz said. "There are many companies doing business with woods from other nations."
RELATED: MSNBC Speculates: Bush Appointee In IRS Targeted Tea Party Because They Reflected Badly On GOP
"Do you plan on taking action now and fighting back?" Brian Kilmeade asked.
"The issue is really the system that allows people in — particularly in the executive branch — to make decisions that are not on the basis of the intent of the law or what the American people would like to see happen," Juszkiewicz added. "They can make decisions for very bad reasons and not be held accountable."
"I think there is a system problem and I have committed myself to fighting that for years to come," he declared.
Watch the clip below via Fox News Channel:
> >Follow Noah Rothman (@NoahCRothman) on Twitter
Have a tip we should know? tips@mediaite.com