Giffords Intern Daniel Hernandez: "I Must Humbly Reject The Title Of Hero Because I Am Not One"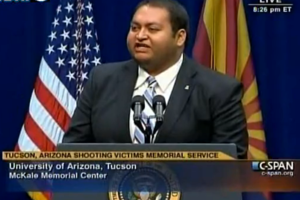 Chief among those that have universally received praise as heroes for their efforts in reacting to the massacre in Tuscon last Saturday was the intern that rushed to Rep. Gabrielle Giffords's aid at the sound of gunshots, and in keeping her upright and away from the rest of the chaos that day likely saved her life. Daniel Hernandez got his chance to accept that praise today at the Tuscon memorial, and wholeheartedly rejected it.
Clearly overwhelmed by the crowd's appreciation for him, Hernandez took the stage to address the crowd and as, all the speakers of the night, attempt to uplift the city after the disaster that has befallen them. He spoke of the "glimmers of hope" that he saw around him despite the horror they faced, and thanked the nation for standing behind Arizona and opening their hearts to them. But as warmly as the crowd accepted him, he refused to be seen as one worthy of exception thanks tonight: "I must humbly reject the use of the word 'hero' because I am not one of them," he told the crowd, and listed those who he did see worthy: among them the Congresswoman and many of the victims, including Gabe Zimmerman and those in the crowd who had stepped in to subdue the gunman.
It was a short but poignant speech, and he left the crowd with a strong, humble reminder: "We must reject the title of hero and save it for those who deserve it."
Hernandez's comments at tonight's memorial service below:

Have a tip we should know? tips@mediaite.com