Ginger White Claims To Have Engaged In A 13 Year Long Affair With Herman Cain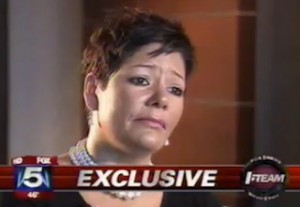 On Monday afternoon news broke of an alleged consensual and long-term affair between GOP presidential candidate Herman Cain and an Atlanta area woman by the impossibly scripted name Ginger White. The story of national political import appears to be the work of local Atlanta Fox 5 reporter Dale Russell, though it was preemptively broken live on CNN by Cain himself during a live interview with Wolf Blitzer. Little has been known about the actual story, until now.
The segment is just exactly what one might expect from a local news crew, though rarely does something so seemingly pedestrian earn such national attention. Among the details that emerged from the interview is the claim by Ms. White that she met Cain in the late 90s at an event in Kentucky. She also claimed that she after spending some time in the hotel room with the former CEO and restaurant executive, she was invited to meet in on a trip to Palm Springs, where the affair actually began.
Ms. White is an unemployed and single mother of two, struggling to make ends meet. She also has a history of making sexual harassment allegations in 2001, and has had a temporary protective order placed against her for repeated e-mails and texts threatening lawsuit and defamation of character as well. None of that is necessarily relevant to the story, but is certain to come up as Cain's supporters look to clear the name of their candidate for what seems to be a pattern of allegations, none of which have yet to be absolutely proven to be true.
Perhaps the most interesting moment came when Ms. White showed her cell phone to the reporter, demonstrating that she had received some recent phone calls from Mr. Cain. When the reporter texted the number assigned to Cain, he claims to have spoken to the presidential candidate himself. During the previous interview with CNN, Cain admitted that he has known and considered this woman to be a friend for roughly 13 years, though he strongly denied any inappropriate affair.
Video via Fox 5 – Atlanta below:
Have a tip we should know? tips@mediaite.com
Colby Hall - Founding Editor