Gingrich Concedes Tea Party Does Not Have As Much Political Power As It Did In 2010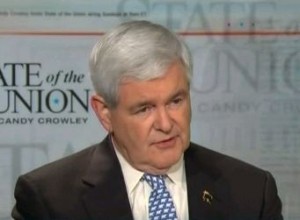 During an appearance on CNN's State of the Union earlier, Newt Gingrich was asked about the relative influence of the Tea Party in Republican politics. Crowley brought up the hotly contested Indiana race between incumbent Senator Duck Lugar and Tea Party challenger Richard Mourdock, and how Lugar might finally see his political career end after decades of service. Gingrich did not take sides in the race, but did credit Mourdock with being aggressively conservative and predicted he would end up winning the primary. Of course, Crowley suggested, the general election could go to the Democrat, but Gingrich said it would be highly unlikely.
RELATED: Barney Frank: 'If You're A Mainstream Republican, You Want The Current Crowd Of Extremists To Lose'
Then Crowley asked Gingrich about the relative strength of the Tea Party recently in trying to put the most conservative candidates into office. Mitt Romney's likely ascension to the GOP nomination shows it had a pretty low impact on the presidential primary race, and Orrin Hatch will likely survive Tea Party challenges to his seat. So given these factors, does Gingrich think the movement's political power has receded?
Despite acknowledging that the level of passion is no longer at a peak in the movement, Gingrich does believe that it's still managed to have a strong impact.
"I think the effort to attack the Tea Party has had an impact. My experience is that the Tea Party has been overwhelmingly… they're serious, they studied the Constitution… I find them to be very serious citizens everywhere I go in the country and I think the Tea Party's added a lot."
Watch the video below, courtesy of CNN:
Have a tip we should know? tips@mediaite.com
Josh Feldman - Senior Editor