Gingrich: 'Americans Have A Right To Know' About Obama Administration's Alleged Links To Muslim Brotherhood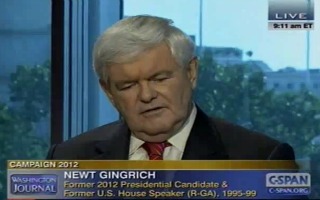 Appearing on C-SPAN on Thursday, former House Speaker Newt Gingrich defended a recent report which said that the Egyptian Muslim Brotherhood had significant influence over certain agencies within the United States government. Gingrich said that the negative reaction to those reports has been based in emotion. He went on to say that it is appropriate for the American people to want to know how much influence the Brotherhood has over President Barack Obama's administration.

RELATED: McCain Rips Into Michele Bachmann's Accusation That Sec. Clinton Aide Is Muslim Brotherhood
"It's not about an individual person," said Gingrich. He went on to says that it was "totally appropriate" to investigate certain departments in the government and their potential links with the Muslim Brotherhood.
"I think the Muslim Brotherhood is a very, very dangerous organization," said Gingrich. He cited former British Prime Minister Tony Blair who recently said that the West has turned a blind eye to the aims of radical Islamist elements abroad to infiltrate foreign governments.
"I think it's fascinating how intensely emotional some of the reaction to those letters have been," Gingrich continued. "I would suggest that we as Americans have a right to know whether or not people who want to replace our civilization have significant influence in the Obama administration."
Rep. Michele Bachmann (R-MN) recently came under fire from her fellow members of Congress for suggesting that Huma Abedin, longtime aide to Sec. Hillary Clinton, could be linked to the Egyptian Muslim Brotherhood and Abedin's influence should be investigated. Sen. John McCain (R-AZ), among others, spoke out against those accusations and defended Abedin saying that she represents "what is best about America."
Watch the clip below via C-SPAN:
> >Follow Noah Rothman (@Noah_C_Rothman) on Twitter
Have a tip we should know? tips@mediaite.com