Gingrich: Gays Should Be More Tolerant of Those Who Didn't Like Michael Sam Kiss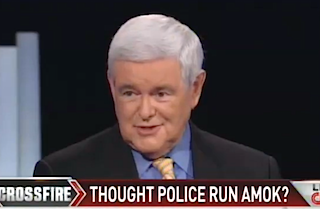 During CNN's Crossfire Monday, Newt Gingrich weighed in on some of the more controversial reactions to the kiss Michael Sam shared with his partner on live TV after getting drafted by the St. Louis Rams. While the pundit agreed that Sam's fellow players should be tolerant of his sexuality, he also said gay people need to be tolerant of those who did not like seeing the kiss between two men.
"Michael Sam is a brilliant marketeer, we'll see how good a football player he is," Gingrich said, pointing to a new Visa commercial the player shot and released over the weekend. "This guy understands how to manipulate the media and maximize his impact."
RELATED: Fox's Eric Bolling: Michael Sam Was Only Drafted Because He Is Gay
When Gingrich brought up death threats former NFL player Derrick Ward is getting over his condemnation of the kiss, Jamal Anderson, another former player, defended Sam. "Nobody would have said anything if Michael Sam would have turned and kissed a beautiful young lady, it would have been something we see all the time," Anderson said. "He is a gay American. This is, in fact, how he chose to celebrate. Yes, it surprised a lot of people and it was the first time a lot of people may have seen that, but this is about inclusiveness."
Gingrich pushed back, saying, "You guys talk about how you want to be inclusive," but then punish those who speak out against gay Americans like Sam. "That's repression, that's not inclusive," Gingrich said.
"Is it repression to try to teach them to be understanding and open to other people, especially when you talk about people they have not been exposed to?" Anderson shot back.
"Shouldn't you also be teaching people who are gay to be open and understanding of people —" Gingrich began, before co-host Van Jones cut him off.
"I think people who are gay and lesbian have to spend their entire lives learning how to get around these minefields," Jones said. In other words, they are not the ones who need "sensitivity training."
Watch video below, via CNN:
By the way, if you want to see the Visa commercial that has been bothering Gingrich so much, here it is:
[Photo via screengrab]
— —
>> Follow Matt Wilstein (@TheMattWilstein) on Twitter
Have a tip we should know? tips@mediaite.com