Gingrich Goes After Romney For Attack Ads: 'It Is Your Millionaire Friends Giving To The PAC'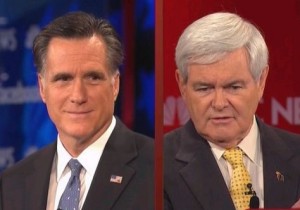 Long gone is Newt Gingrich's promise to run a positive campaign, David Gregory noted during today's special early-morning Republican presidential debate, for the former frontrunner has now taken to going after Romney for ads that were run against him in Iowa that Gingrich believed were misleading and didn't have facts to back up its premises. Now Gingrich is turning the tables with a new 30-minute infomercial about Romney's ties to Bain Capitol, and continued to go after Romney during today's debate.
RELATED: Doubling Down: Gingrich Is Asked Why He Called Romney A 'Liar,' Explains It's Because He, Y'know, Lies
Gingrich boasted that one of the attack ads against him by a pro-Romney Super PAC received "4 Pinocchios" from The Washington Post, which, I guess, makes you a liar four times over. Gregory challenged Gingrich to repeat his earlier charges and call Romney a liar to his face. Gingrich did not use the exact word, but he did look directly at Romney and demand that he take some responsibility for the advertisements.
"I wish you would calmly and directly state it is your former staff running the PAC, it is your millionaire friends giving to the PAC, and you know some of the ads aren't true. Just say that, straightforward."
Romney acknowledged that of course supporters of his would be running a PAC that, you know, supports him. He stated quite clearly, "I haven't seen the ads." Cut to about fifteen seconds later when Romney starts counting down the list of accusations made in the ads against Gingrich.
"The ad I saw said that you'd been forced out of the speakership, that was correct. It said that you'd sat down with Nancy Pelosi and argued for a climate change bill, that was correct. It said that you called… Paul Ryan's plan to provide Medicare reform a 'right-wing social engineering plan.' It said that as part of an… ethics investigation that you had to reimburse some 300 thousand dollars. Those things are all true."
However, Romney added that if there was any information within any of the ads that was untrue, he would encourage the group to remove it. After describing Gingrich's rhetoric as "over-the-top," Gingrich looked incredulously at Romney and questioned how he could be the over-the-top one when the PAC ads leveled such charged accusations at him. Romney calmly explained to Gingrich that like all political candidates, he cannot coordinate with the Super PAC, let alone plan out any of the ads.
RELATED: Newt Gingrich On Mitt Romney's Attack Ads: 'I Feel Romney-Boated'
Although David Gregory tried to steer the conversation elsewhere, Gingrich had none of it, insisting he had been taking the high road from the very beginning, and stated he has high hopes that the PAC ad coming out about Romney's ties to Bain will contain more accurate information than the pro-Romney ads.
Watch the exchange below, courtesy of NBC:
Have a tip we should know? [email protected]
Josh Feldman - Senior Editor