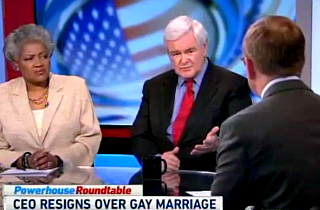 On This Week With George Stephanopoulos Sunday morning, 2012 South Carolina GOP primary winner Newt Gingrich decried the "new fascism" that forced people out of their jobs for having conservative beliefs — the most recent example being, according to Gingrich, former Mozilla CEO Brendan Eich, who stepped down last week after public outrage over his $1,000 donation to an organization supporting California's Proposition 8, which would have banned same-sex marriage.

"If you're a young faculty member, in a lot of places, if you're a young member of a news department, and you have the wrong views, meaning conservative, you have no career," Gingrich said. "This is just the most open and blatant example of the new fascism, which says if you don't agree with us 100%, we have the right to punish you, unless you're like Hillary [Clinton] and Barack Obama, and you recant."
RELATED: Bill Maher Takes on Mozilla Controversy: 'There Is a Gay Mafia'
Gingrich is not the first to invoke 20th century totalitarian movements following Eich's ouster. Rush Limbaugh also denounced "fascism on the left," and Glenn Beck accused gay groups of acting like "Der Fuhrer."
"Where would you draw the line?" ABC's Jonathan Karl asked. "What if he came out against interracial marriage?"
"I think the question is do you want to live in an open and tolerant society, or do you want impose your views at the cost of people's jobs?" Gingrich replied.
Watch the clip below, via ABC News:
——
>> Follow Evan McMurry (@evanmcmurry) on Twitter
Have a tip we should know? tips@mediaite.com