Gingrich Predicts Post-Election Power Struggles: 'We Are In for a Long, Difficult Couple of Years'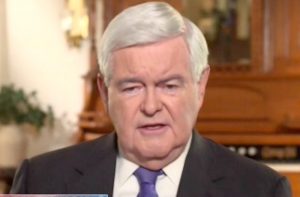 Newt Gingrich has made his support of Donald Trump perfectly clear, but today on Meet the Press, he appeared to concede that no matter who wins the presidency, America will most likely lose for the next several years.
After a discussion about WikiLeaks and Hillary Clinton's supposed wrongdoings, Chuck Todd asked the former house speaker about something he said in 2001, after the election between George W. Bush and Al Gore.
Back then, Gingrich observed that American voters do not feel alienated from their fellow voters despite how contentious that election turned out to be. When Todd asked if those thoughts still ring true, Gingrich said that with the the continued investigations into Clinton and the deep levels of public disgust towards Trump, both political sides will remain determined to fight for control of the country.
"I think that we are in for a long, difficult couple of years, maybe a decade or more. The gap between those of us who are deeply offended by the dishonesty and corruption and the total lack of honesty on Clinton team, and on their side their defense of unions, which they have to defend…but that will lead to a Madison, Wisconsin kind of struggle if Trump wins."
After laying out his thoughts about the power struggles to come, Gingrich told Chuck "I wish it wasn't true," to which, the NBC host responded that everybody probably agrees with him.
During another point of today's show, Todd looked at how most Trump and Clinton supporters despise their respective opponent, and will not likely be happy if their side loses.
Watch above, via NBC.
[Image via screengrab]
— —
>> Follow Ken Meyer (@KenMeyer91) on Twitter
Have a tip we should know? tips@mediaite.com