Gingrich Savages Mitt Romney's 'Overly-Methodical' Campaign On CNN
Gingrich Savages Romney's 'Overly-Methodical' Campaign On CNN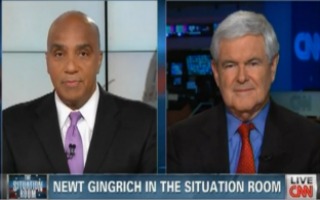 Former House Speaker Newt Gingrich appeared on CNN where he was asked why the polls are showing GOP presidential nominee Mitt Romney falling behind President Barack Obama with just weeks to go before the election. Gingrich took the opportunity to criticize the Romney campaign and the candidate himself on a range of issues.
Joe Johns asked Gingrich to weigh in on recent battleground state polling that shows Romney falling behind Obama. Gingrich said that Romney has some structural problems, and among those is that the Obama campaign spent the summer running ads attacking Romney and defining him negatively.
"The Romney campaign has yet to find a thematic way of explaining itself and laying out in a clear, crisp way the difference between Romney and Obama," said Gingrich.
Gingrich also said that there was a structural problem in the fact that states like Ohio and Florida have Republican governors that have engineered turnarounds in areas like budget deficits and unemployment. The positive trajectory of those states' finances makes it difficult for Romney to campaign on the state of the economy.
"They seem to have this overly-methodical model where they go out and they keep saying the same thing, and the world is too fluid, the world is too sophisticated for that," said Gingrich.
Johns asked if the uptick in the economy in these swing states had made voters unreceptive to Romney's message or if the candidate himself was faltering. Gingrich replied that there was no question that the campaign was not succeeding due to the candidate.
"It's clearly something that you can go out, and you can communicate, and you can do dramatically better than Romney is currently doing," said Gingrich. He detailed why Obama was a beatable incumbent for many reasons and wondered aloud why the Romney campaign was not campaigning on a consistent message.
Johns played a clip of Romney talking about his debt reduction plan which would include the elimination of deductions in order to remain revenue neutral. Johns asked if Gingrich thought that was clear enough and resonate with voters. "No," Gingrich replied. "I don't think that resonates."
Gingrich concluded by saying that Romney is campaign message was undefined and muddled. He said that energy exploration was an easy message to win against the Obama campaign's restrictions on federal energy exploitation. He seemed confused as to why the Romney campaign did not embrace that message.
"I can sense just a bit of frustration in your voice," said Johns. He asked if Gingrich had any advice for Romney ahead of the first debate next week. "Be who you are," said Gingrich. "Walk in determined to draw very sharp, clear lines with President Obama." Gingrich concluded by attacking an ad in which Romney says that both he and Obama care about the middle class. "I think it's a mistake for him to try to somehow be clever," said Gingrich.
Gingrich recalled how Romney defeated him in the debates when he faced losing the nomination. He said that Romney could change the trajectory of the race if he debates Obama like he debated himself in Florida in January.
Watch the clip below via CNN:
> >Follow Noah Rothman (@Noah_C_Rothman) on Twitter
Have a tip we should know? tips@mediaite.com