Gingrich Scolds David Gregory: Why Is Rush Limbaugh 'The Great National Crisis Of This Week'?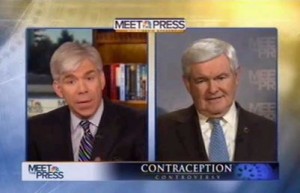 Newt Gingrich appeared on Meet the Press earlier today and was asked about the fallout from Rush Limbaugh's controversial remarks about Sandra Fluke in the past week. Gingrich, however, did not seem eager to talk about this subject, and called out Gregory and the rest of the media for placing such an emphasis on this story while mostly ignoring President Obama and any number of news stories that put him in a less-than-positive light.
RELATED: Rush Limbaugh: GOP Could Have Landslide Victory If 'Election Could Be Decided On Social Issues'
Gregory read through Limbaugh's apology and asked Gingrich how much "damage" the entire controversy has done. Gingrich's answer was practically dripping with disdain.
"I am astonished at the desperation of the elite media to avoid rising gas prices, to avoid the president's apology to religious fanatics in Afghanistan, to avoid a trillion-dollar deficit, to avoid the longest period of unemployment since the Great Depression, and to suddenly decide that Rush Limbaugh is the great national crisis of this week."
He flatly denied there was any debate about access to contraception at all, insisting it's an issue of religious liberty and not mandating that religious institutions should not be forced to cover services they have a strong moral opposition to. Gingrich reiterated his claim that Obama supported legalizing infanticide, and even claimed that the president has an "extreme pro-abortion position" far outside the mainstream.
Gingrich did agree that Limbaugh was right to apologize, but argued it was more important that Obama apologize for his apology to "religious fanatics" who were up in arms after the Quran was burned in a U.S. military camp in Afghanistan. Gregory steered the conversation back to the contraception issue, and wanted to know if Gingrich had any sympathy for the argument that the Republicans are waging a "war on women."
RELATED: Newt Gingrich Slams U.S. Apologies Over Quran Burning: 'Our Troops Get Killed, Nobody Apologizes'
Gingrich insisted once again that no one is talking about limiting anyone's access to birth control, it's a question of religious liberty.
Watch the video below, courtesy of NBC:
h/t NewsBusters
Have a tip we should know? tips@mediaite.com
Josh Feldman - Senior Editor