Gingrich Super PAC Adviser Defends Anti-Romney Doc, Calls Him A 'Low-Flying Vulture'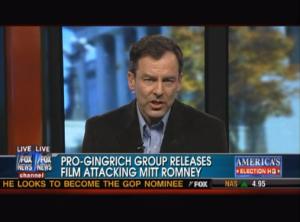 Rick Tyler, a former campaign spokesman for Newt Gingrich and current senior adviser for the pro-Gingrich super PAC "Winning Our Future," appeared on America Live today to discuss When Mitt Romney Came to Town, the half-hour documentary that purports to take a look at the fallout from Mitt Romney's time at private equity firm Bain Capital.
RELATED: The New Film From Pro-Gingrich Super PAC: Mitt Romney Is 'The Man That Destroyed Us'
As you may know, Winning Our Future paid a reported $40,000 to purchase and distribute the short film. Tyler explained that the intent behind distributing the film is to counter Romney's claims that he is a "job creator."
"I say that the Romney people are doing a very good counteroffensive," he later added, "which is that, you know… Think about the arrogance of this, that somehow my holding Romney accountable to his record is gonna collapse the free enterprise system. I mean, it's ridiculous." Tyler also noted that while it's true that capitalism includes "creative destruction," with some high-flying creators and innovators putting forth products or services that end up canceling out their competition or predecessors. But Mitt Romney, Tyler contends, was not on the "high-flying, creative" side of business, but instead on the "low-flying, vulture" side:
He's like a vulture capitalist. And he goes around and takes the dead carcasses of these companies, picks them apart, raises their pensions.
Then, after taking note of Bain Capital's failure rate versus the profits it made, Tyler said that he's not "begrudging them a profit — that's fine:"
People can make a profit being a venture capitalist. But don't come and run a presidential campaign and saying, you know, you're a high-flying eagle in the business world when in fact you're a low-flying vulture.
Then he called Megyn "Martha." Oops!
Later in the segment, Romney supporter Bay Buchanan shot back, calling Gingrich and his super PAC "desperate" and wondering whether they even really understand just how the private sector functions. The fact that Gingrich is upset with Romney's business decisions, she said, "concerns me as a conservative," because, as she sees it, he is using class warfare tactics usually implemented by the left.
Kelly pointed out one easily debunked talking point put forth in the documentary's trailer: Romney does not own 15 houses, as one interviewee claims. Citing Bloomberg, Kelly notes that he has, in fact, three homes.
Have a look, via Fox News:
Have a tip we should know? tips@mediaite.com