Newt Gingrich: Palin Should 'Slow Down' And 'Think Through What She's Saying'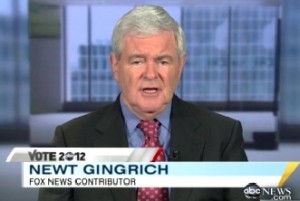 One of the more compelling angles to the 2010 midterm elections was the so-called GOP Civil War that broke out between the Tea Party affiliated newcomers and the old-school GOP establishment. This "war" was most commonly portrayed as a battle between Sarah Palin and Karl Rove, but it appears there might be another combatant attacking Palin's right flank: 2012 presidential hopeful and fellow Fox News contributor Newt Gingrich.
During an appearance on Good Morning America with host George Stephanopoulos earlier today, Gingrich was asked to opine on many topics of the day: Obama's speech at the Tuscon memorial, the effects of Health Care reform on the job market, and of course, her potential presidential foe, Ms. Palin.
Here is what Gingrich said of Ms. Palin (transcript via):
"I think that she has got to slow down and be more careful and think through what she's saying and how she's saying it. There is no question that she has become more controversial, but she is still a phenomenon. I don't know anybody else in American politics who can put something on Twitter or put something on Facebook and automatically have it become a national story. So she remains, I think, a formidable person in her own right."
It was cunning and subtle dig at the populist Palin, one that may very well mark the moment that Sarah Palin lost the support of the GOP stalwarts. Or more likely, it was Gingrich trying to create a little distance between himself and the former Alaskan Governor as he revs up his own political machinery in advance of the 2012 election.
Watch the segment courtesy of ABC News below:
Have a tip we should know? [email protected]